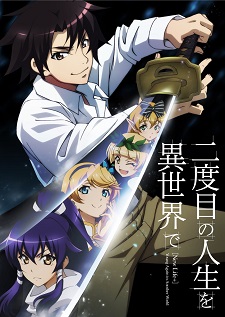 An official website opened for a TV anime adaptation of
Mine
and
Kabocha
's
Nidome no Jinsei wo Isekai de
(
[New Life+] Young Again in Another World
) light novel series on Tuesday. The anime is scheduled to air in October 2018.
Synopsis
When death tapped Renya Kunugi on the shoulder, he smiled and went willingly. After enjoying a nice, long life of 94 years, he was looking forward to shutting his eyes for the last time. He was, therefore, understandably upset when he woke up again in an empty space, devoid of memories, with a young girl in a tunic rambling on and on about how she's God. So, he did what any reasonable person would have done under those circumstances: he sent the girl flying with a kick to the face. It turned out that the girl was indeed God, and she was in a pinch. She urgently needed someone to do some interdimensional Resource smuggling, and Renya fit the bill.
His mission: cross the boundary into another world, then chill for a few decades. God would handle the rest. To sweeten the deal, she offered him an eighteen-year-old body and a whole laundry list of ludicrously powerful skills, yet he remained hesitant. Then, she mentioned the food—an exotic world comes with exotic delicacies—and this sealed the deal. The next thing he knew, he was standing in a foreign land, younger, stronger, and more clueless than ever. Will he survive this world? And more importantly, will the world survive him? (Source: J-Novel Club, edited)
Staff
Director:
Keitarou Motonaga
(
Jormungand
)
Series Composition:
Takamitsu Kouno
(
Minami-ke Tadaima
)
Script: Takamitsu Kouno,
Touko Machida
(
Rokudenashi Majutsu Koushi to Akashic Records
),
Koujirou Nakamura
(
Kono Subarashii Sekai ni Shukufuku wo!
),
Chabou Higurashi
(
Utawarerumono: Itsuwari no Kamen
)
Character Design: Makoto Takahoko (
Nana Maru San Batsu
)
Studio:
Seven Arcs Pictures
Mine originally
launched
the adventure fantasy novel in the Shousetsuka ni Narou website in January 2014, which has garnered over 189 million views. The series has been publishing under Hobby Japan's HJ Bunko imprint with illustrations by Kabocha since November 2014, and its 18th volume will ship this Thursday.
A
manga adaptation
drawn by
Satoru Abo
began serialization in
ComicWalker
web manga service in June 2016, and has been collected into four compiled volumes as of January 22. Kadokawa plans to publish the fifth volume on June 6.
Nidome no Jinsei wo Isekai de
has a cumulative 1 million copies of its light novel and manga volumes in circulation.
J-Novel Club licensed the light novel in English and published the second volume digitally on April 30. The third volume is scheduled for a July 2 release.
Official site:
http://nidomeno-jinsei.com/
Official Twitter: @
nidomeno_jinsei
Source:
Anime Recorder

RSS Feed