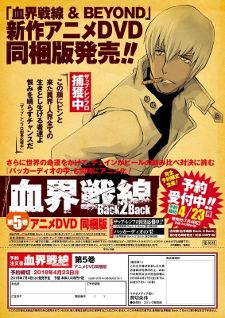 At the "Libra Nihon Shibu Fuyu no Budoukai (Winter Ball)" special event on Saturday, release of the fifth volume of
Kekkai Sensen: Back 2 Back
manga was announced, which will bundle a new OVA. The volume will go on sale on July 4, with April 23 being its pre-order deadline.
The OVA, which will have a duration of 24 minutes, will adapt two stories. The first story titled "Zapp Renfro Inga Oohou-juu!!" will adapt a chapter from volume four, while the second story, titled "Bakkaadio no Shizuku," will adapt a chapter from volume two.
Kekkai Sensen
is drawn by
Yasuhiro Nightow
and initially started serialization in
Jump SQ
as a
pilot chapter
in 2008. It continued as a full series in
Jump SQ.19
until the magazine discontinued in 2015, where the manga had compiled into 18 volumes. Nightow continued his manga in
Jump SQ.Crown
during the same year.
A
TV anime
adaptation by studio
Bones
, with direction from
Rie Matsumoto
(
Kyousou Giga
), was broadcast in Spring 2015. A
second season
was broadcast in Fall 2017 with
Shigehito Takayanagi
(
Dagashi Kashi
) as the director. Each season was simuldubbed by
Funimation
while Crunchyroll simulcast the season season.
Source: @
HMV_Anime
on Twitter
Kekkai Sensen & Beyond OVA
on MAL

RSS Feed