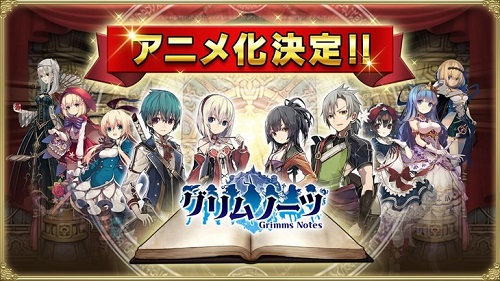 Today, at the end of this year's Grimms Notes Thanksgiving Event held at the TABLOID function room in Tokyo, it has been announced that Square Enix's Japanese fantasy role-playing game
Grimms Notes
will receive an anime adaptation. More information about the anime's type and duration will be revealed at a later date.
The event commemorates the game's second anniversary as well as a large-scale update with the release of the new story "Grimm Notes Repage" later this month. It was attended by 150 invited users as well as a few of the game's voice cast such as one of the playable heroes, Elena, and staff members to introduce the story, patches, and gameplay.
Grimm Notes Game Cast
Ekusu:
Ryota Osaka
(
Akagami no Shirayuki-hime
)
Reina:
Reina Ueda
(
Dimension W
)
Shane:
Miyu Kubota
(
PriPara
)
Tao:
Takuya Eguchi
(
91 Days
)
Clovis:
Kengo Kawanishi
(
3-gatsu no Lion
)
Third:
Shiori Izawa
(
Witch Craft Works
)
Adah:
Yukiyo Fujii
(
Amagi Brilliant Park
)
Fam:
Yuu Serizawa
(
Jitsu wa Watashi wa
)
Grimms Notes
is a smartphone game developed by Square Enix that was launched on January 20, 2016. It is available to play in
iOS
and
Android
platforms and has been downloaded for more than 15 million. Flero Games has announced in September last year that the game will be available outside Japan in the future. The gameplay revolves around the adventure of players with a given book that tells their fate in the world created by "Storytellers" and these people must fight against "Chaos Tellers" who overwrite their books with bad events.
Last year, the game has spawned two novel adaptations and a manga. The one-volume
novel
written by
Takashi Ooizumi
and illustrated by
Mikine Minori
was released by SB Creatives on May 13. Kadokawa has also released a comic anthology in March and a spin-off novel titled
Grimms Notes: Unmei no Koishi Satachi
in May.
Source:
Social Game Info
Grimms Notes
on MAL

RSS Feed