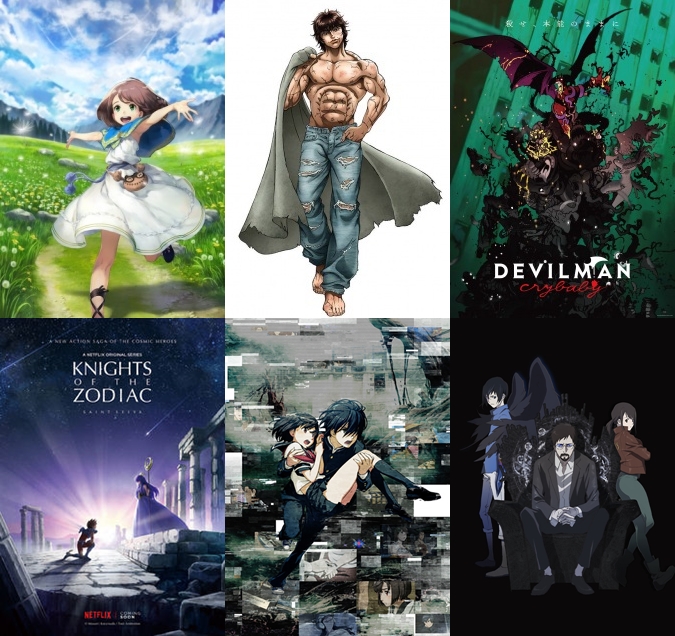 Netflix Slate 2017, which was held at Tokyo International Forum on Wednesday, has announced several anime series to be streamed on Netflix during its conference.
Rilakkuma Series (Kari)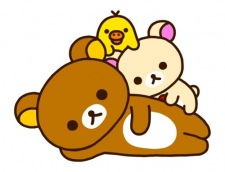 Rilakkuma Series
(Kari) is a short ONA series to commemorate the franchise's 15th anniversary in 2018. It will have 10 episodes streamed via Netflix.
Lost Song
The
previously announced
anime (top-left visual) has revealed a special video and partial staff members on the event.
Staff
Original Work, Director, Script: Morita to Junpei (
Occultic;Nine
series composition and script)
Original Character Design: Tomonori Fukuda (
Robotics;Notes
)
Song Lyric:
Aki Hata
(
Anne Happy♪
theme song lyric)
Music: Yuusuke Shirato (
Centaur no Nayami
ending theme song production)
Background Art: Deho Gallery
Studio:
LIDENFILMS
x
Dwango
Special Video
Baki
Details regarding the
previously announced
anime adaptation of
Baki
(top-middle visual) have been announced. The anime will be having 26 episodes streamed on Netflix.
Devilman: Crybaby
The cast members for
Devilman: Crybaby
(top-right visual) have been announced. It will be streamed on Netflix for a total of 10 25-minute episodes.
Cast
Akira Fudou:
Kouki Uchiyama
(
Sakurada Reset
)
Ryou Asuka:
Ayumu Murase
(
Shoukoku no Altair
)
PV 2
Knights of the Zodiac: Saint Seiya
It has been announced that a CG remake anime of Saint Saiya titled
Knights of the Zodiac: Saint Saiya
(bottom-left visual) will be streamed on Netflix. The series was only announced to have one cours for 12 episodes so far. It will animate from the Galaxian Wars arc to Silver Saint arc.
Staff
Director:
Yoshiharu Ashino
(
D.Gray-man Hallow
)
Story Editor & Head Writer: Eugene Son
Script: Benjamin Townsend, Shannon Eric Denton, Thomas F. Zahler, Joelle Sellner, Travis Donnelly, Thomas Pugsley, Saundra Hall, Shaene Siders, Patrick Rieger, and more
Character Design:
Terumi Nishii
(
Mawaru Penguindrum
)
Saint Costume Design:
Takashi Okazaki
(
Afro Samurai
mangaka)
Studio:
Toei Animation
Sword Gai The Animation
It will be available on Netflix in Spring 2018. The mangaka
Toshiki Inoue
will join the anime staff as the one in-charge of the series composition and script.
A.I.C.O.: Incarnation
Bones
has announced an original anime titled
A.I.C.O.: Incarnation
(bottom-middle visual), which is currently in production, to stream on Netflix in Spring 2018.
Kazuya Murata
(
Fullmetal Alchemist: The Sacred Star of Milos
) will be directing the series.
Synopsis
Set in the near future in Japan, year 2035. A major incident was known as "Burst" which was caused by researching artificial life. A certain AI called "Matter" has eroded the Kurobe Gorge. Entering the research city, which has been called as humanity's last hope, has been prohibited by the government. Two years later, Aiko Tachibana, a 15-year-old girl who lost her family from the incident, was told by a transfer student named Yuuya Kanzaki the truth that Aiko didn't know regarding a secret hidden within her body. The key to solve the mystery is said to be in the Primary Point, the center of Burst. When a boy and a girl, who bears the future of humanity, meet, what will be the new truth?
Special Video
B: The Beginning
Production I.G
will animate and
Kazuto Nakazawa
(
Utakata Hanabi
) will co-direct the original suspense anime (bottom-right visual) with
Yoshiki Yamakawa
(
Hatsukoi Limited.
).
Staff
Director, Character Design, Chief Animation Director: Kazuto Nakazawa
Director: Yoshiki Yamakawa
Script: Katsuya Ishida (
Hajime no Ippo: Rising
)
Art Director:
Takanori Tanaka
(
Kanojo to Kanojo no Neko: Everything Flows
)
3DCG Director: Kenji Isobe (
Kuroko no Basket: Last Game
)
For the cast members, Main character Kurobane has been announced to be voiced by
Yuki Kaji
(
Dive!!
). There are also other cast members announced with no character names yet, including
Hiroaki Hirota
(
Granblue Fantasy The Animation
),
Asami Seto
(
Selector Infected WIXOSS
),
Toshiyuki Toyonaga
(
Gamers!
),
Toshiyuki Morikawa
(
Final Fantasy VII: Advent Children
),
Kaito Ishikawa
(
Boku no Hero Academia 2nd Season
), and
Ami Koshimizu
(
Konbini Kareshi
).
Source:
Phile Web

RSS Feed