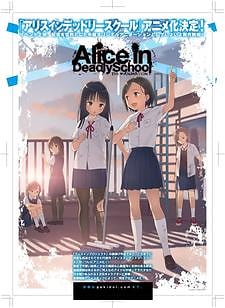 The official Twitter account for GekiDol has announced that
Alice in Deadly School
will receive an anime adaptation as part of the GekiDol project.
Alice in Deadly School
is a 4-koma manga written by Kaouru Asakura and drawn by Ajiko Kojima. The series has been serialized in Dengeki Comics Daioh "g" magazine since 2013 and currently has one volume in print, released June of last year. The original character designs will be done by Asami Seikya.
The series is part of the GekiDol Project (Theater + Anime x Idol), which was announced to start in April during Winter Comiket 2015.
Source:
Official Twitter
Alice in Deadly School
on MAL

RSS Feed