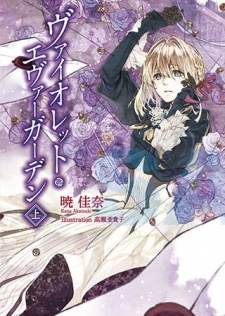 Kyoto Animation
has uploaded a commercial video on its official website and YouTube channel on Friday. At the end of the video, the studio formally announced that an anime project for the light novel
Violet Evergarden
is in the works.
Violet Evergarden
is a light novel written by Kana Akatsuki with illustrations by Akiko Takase. It is the grand prize winner of the fifth Kyoto Animation Award in the light novel category in 2014. The staff have been listed for the commercial, but it is not known if they will return for the anime project.
CM Staff
Storyboard, Episode Director:
Taichi Ishidate
(
Hyouka
)
Character Design, Animation Director: Akiko Takase
Key Animator: Nami Iwasaki, Fumio Tada, Kouhei Okamura, Shinpei Sawa, Nobuaki Maruki, Tatsuya Satou, Miku Kadowaki
In-Between Animation Check: Hiroko Kuroda
Color Design: Yuuka Yoneda
Special Effects:
Rina Miura
(
K-On!
)
Art:
Mikiko Watanabe
(
Musaigen no Phantom World
)
3D Art: Jouji Unoguchi
Director of Photography: Kouhei Funamoto
3D CG: Tetsurou Umetsu
Official site:
http://www.kyotoanimation.co.jp/books/violet/
CM
Source:
Kyoto Animation Twitter
Violet Evergarden
on MAL

RSS Feed