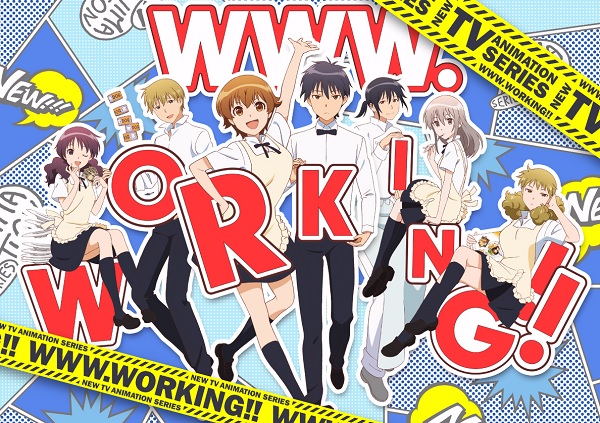 An official website has opened for a TV anime adaptation of
Working!! Web-ban
, a spin-off series of the
Working!!
4-koma manga. The anime series will be aired under the title
WWW.Working!!
WWW.Working!!
was teased as a
possible landing page
on the website of the
Working!!
anime series on Friday, as part of April Fools' Day celebrations. A false
announcement
of an anime adaptation was also made on April Fools' Day in 2011.
Working!! Web-ban
was originally published on the personal website of mangaka
Karino Takatsu
. Square Enix has compiled the series into three volumes under the Young Gangan Comics label.
Synopsis
Daisuke Higashida is a serious first-year student at Higashizaka High School. He lives a peaceful everyday life even though he is not satisfied with the family who doesn't laugh at all and makes him tired. However, his father's company goes bankrupt one day, and he can no longer afford allowances, cellphone bills, and commuter tickets. When his father orders him to take up a part-time job, Daisuke decides to work at a nearby family restaurant in order to avoid traveling 15 kilometers to school by bicycle.
Cast
Daisuke Higashida:
Yuuichi Nakamura
(
Clannad
)
Hana Miyakoshi:
Haruka Tomatsu
(
Sword Art Online
)
Shiho Kamakura:
Sora Amamiya
(
Aldnoah.Zero
)
Yuuta Shindou:
Kensho Ono
(
Kuroko no Basket
)
Sayuri Muranushi:
Yoko Hikasa
(
High School DxD
)
Masahiro Adachi:
Kouki Uchiyama
(
Amagi Brilliant Park
)
Kisaki Kondou:
Risa Taneda
(
Gochuumon wa Usagi Desu ka?
)
Staff
Director:
Yumi Kamakura
(
Working!!!
)
Studio:
A-1 Pictures
PV
This video is region-locked and can be viewed on an alternative site.
Official site
Source:
Moca News
WWW.Working!!
on MAL

RSS Feed