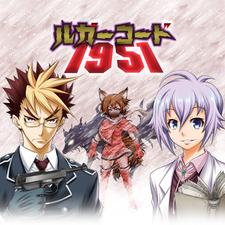 Shounen Jump+
has announced that the anime
Luger Code 1951
will air on
Animax
in Fall 2016. It adapts the manga written by
Haruto Haneki
and drawn by
Akira Akatsuki
.
Luger Code 1951
is the Grand Prize winner of the Shounen Jump+ × Animax Anime Scenario Award, announced in September 2015. The theme of the contest was "your original scenario in the image of Shounen Jump." The contest accepted unpublished entries that could be made into a short anime 30 to 40 minutes in estimated length. Akatsuki was one of the judges in the competition.
Shounen Jump+ has been publishing
Luger Code 1951
on its digital manga service since December. The third and final chapter was published today, February 29.
Cast
Alex Rossa:
Takuya Eguchi
(
Yahari Ore no Seishun Love Comedy wa Machigatteiru.
)
Staff
Director:
Shinya Takahashi
(
Utawarerumono OVA
)
Script:
Katsuhiko Takayama
(
Aldnoah.Zero
)
Character Design:
Hirofumi Morimoto
(
Kore wa Zombie Desu ka?
)
Music:
Ryou Kawasaki
(
Reikenzan: Hoshikuzu-tachi no Utage
)
Studio:
Studio Deen
Synopsis
The story centers around the young linguistic genius and university professor Testa. He is introduced by his senior, Sergeant Rossa, to the Allied Cryptanalysis Department. There, he is tasked to break the enemy werewolves' code, which the werewolves are using to encrypt their radio transmissions. Testa is astounded, as the only sound the encrypted code produces is the howling of a wolf. His research yields no results, and he resolves to capture a live werewolf for better cryptanalysis. After exhausting all possible means, he finally finds a female werewolf, Yonaga.
Source:
ANN

RSS Feed