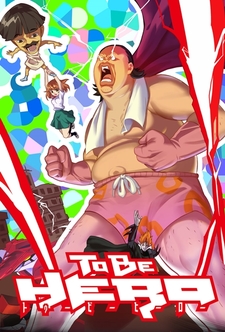 The official website for
Haoliner Animation League
's
To Be HERO
has been launched, and announced that it will begin its broadcast on on October 5, via Tokyo MX at 6:30 p.m., after the broadcast of
the previously announced
Cheating Craft
. It is an original gag anime that supervised by
Shinichi Watanabe
. The episodes will have a run-time of nine minutes.
Synopsis
Our main character, Ossan, is a no-good father with messy appearance even though he looks nice, and decorates restrooms. He is a divorced, single-dad and lives with his daughter Min-chan, who is good at both studying and sport. One day, Ossan has been sucked into the toilet that he finished using, and becomes a hero to save the Earth! The price for his power is that he has lost his ikemen appearance and becomes a fat person!! Ossan's battle to protect the Earth and Min-chan has begun…
Cast
Ossan:
Kenjirou Tsuda
(
K
)
Min: Moa Tsukino (From Kamen Joshi)
Yamada-san: Takeshi Maeda (Eyeshield 21)
Official site:
http://tobe-hero.com/
Official Twitter: @
to be hero
Source:
Ota☆Suke
Update September 7
A press from the anime has announced an additional cast member and corrected the cast member of Yamada-san.
Prince:
Tomokazu Sugita
(
BlazBlue: Alter Memory
)
Alien:
Takeshi Maeda
(
Eyeshield 21
)
Yamada-san:
Yutaka Aoyama
(
Mobile Suit Gundam: Iron-Blooded Orphans
)
Source:
Official Press
To Be Hero
on MAL

RSS Feed