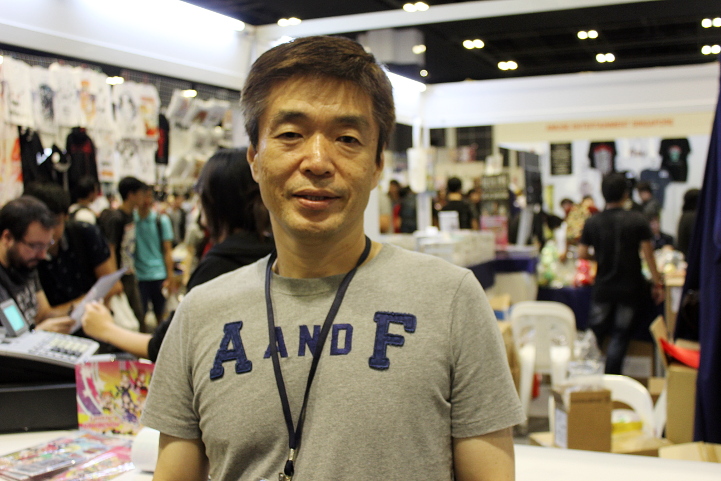 Bunsho Kajiya, managing director of Shogakukan Asia, at the publisher's booth at Anime Festival Asia
At Anime Festival Asia 2015 in Singapore, teenagers wrote congratulatory messages for the TV anime adaptation of
Magi: Sinbad no Bouken
(
Magi: The Adventures of Sinbad
) at Shogakukan Asia's booth. On the side, others filled out surveys on the publisher's titles and received a free manga volume for their feedback.
Shogakukan Asia is a wholly-owned subsidiary of Japanese publisher Shogakukan set up in 2013. To date, it has published English editions of 13 manga titles in more than 70 volumes. For a few titles, such as
Kidou Senshi Gundam Thunderbolt
(
Mobile Suit Gundam Thunderbolt
) and
Yuusha ga Shinda!
(
The Legendary Hero is Dead!
), their English-language releases are only available from Shogakukan Asia.
Leveraging on its parent company's experience, the publisher looks to introduce children to manga. "In Japan, we educate our readers since they were kids through our titles and magazines," said managing director Bunsho Kajiya. Shogakukan is known as the publisher of
Coro Coro Comic
, a best-selling manga magazine with an approximate monthly circulation of a million copies.
Coro Coro Comic has been the flagship magazine of the popular children's title
Doraemon
since 1977, and it has also been publishing
Pokémon Special
(also known as
Pokémon Adventures
) since 1997. According to Kajiya, these titles educate young readers on how to read and enjoy manga in ways that are different from non-Japanese comics.
Shogakukan Asia distributes its titles to six countries: Singapore, Malaysia, Thailand, Indonesia, Philippines, and Brunei. Singapore was chosen as the regional headquarters because the city state has the least barrier of entry for foreign publishers.
Celebrating local creators
As Shogakukan Asia expands its operations in the region, Kajiya said it is looking to work with local creators as a way to contribute back to the industry. The publisher will collaborate on projects that combine Japanese editorial know-how with the creative minds of local creators.
"I would say storyboard and storytelling is a weak point for local creators, but we have a lot of experience in creating stories in Japan," Kajiya explained. "We don't want to just push our story to them. While respecting the creators' ideas, we go through a lot of discussion and find a good way to attract readers or export their title."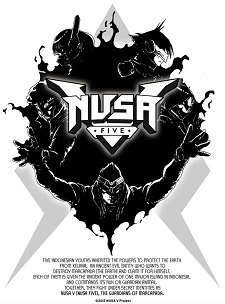 In Indonesia, the publisher is helping develop
Nusa V
(pronounced "Nusa Five," pictured), a series about five youths who inherit superpowers from the spirits of Indonesia's major islands. With their guardian animals, the youths protect the Earth from the evil ancient being Kelana, who seeks to destroy it.
Shogakukan Asia unveiled
Nusa V
at Anime Festival Asia last November. At the time, discussions with its creators had been ongoing for almost one year. When they first began, the
Nusa V
team was already working on a prototype work called
Nusantaranger
, which was distributed online.
According to The Jakarta Post,
Nusantaranger
introduced Indonesia's traditional culture to readers in a pop-culture approach. The Jakarta Globe also noted that popularity of the series among Indonesian youth resulted in the distribution website reaching two million hits.
Nusa V
is a reboot of
Nusantaranger
, building on the same concepts and taking the story in a new direction. Local regulations prevent Shogakukan Asia from publishing the series directly. Therefore, the series will be released through an independent publisher, Padma Pusaka Nusantara.
Establishing a foothold in Southeast Asia
Kajiya believes collaborations with local creators, such as the one in Indonesia, has potential in the Philippines, but he also notes that there is a lot of competition in that market. English-language manga from Shogakukan's American affiliate, Viz Media, are often imported into the country, and other imported comics are often sold with heavy discounts.
In countries where restrictions are in place in order to protect local publishers from foreign competitors, such as Thailand and Indonesia, Shogakukan Asia works with local partners to distribute its manga titles. The works are then translated into the local language by local publishers or companies.
Aside from manga, Shogakukan Asia also publishes children's educational books. Although the company has many opportunities to expose their titles to elementary school children in Japan, it faces a different type of market in Singapore. Rigorous classes in schools mean children more often focus on their studies instead of reading comics.
"It's a little bit tough to educate kids to read manga," Kajiya said about Singapore, "but teenagers and twenty-year-olds are still very much interested in reading them."
Original reporting by arsonal for MyAnimeList.

RSS Feed