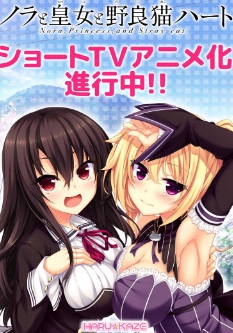 The game developer for the upcoming adult game
Nora to Oujo to Noraneko Heart
(
Nora, Princess and Stray Cat
), Harukaze, announced at Comiket 89 that the game will receive a short TV anime adaptation.
The cast for the game includes Yuuka Kotorii (
Natsumi Takamori
), Sora Haruka (
Eri Sendai
), Misaki Kamishiro (
Yuu Asakawa
), Hana Kiritani (
Atsumi Tanezaki
), Mitsuko Hachi (
Mikako Takahashi
), Ui (Ayumi Takahashi), Mai Indeka, Tayo Matsute, and Koujirou Sasaki. It is unknown whether or not they will reprise their roles in the anime.
Synopsis
Nora Handa is a boy who lives with Shachi Yuuri, who was adopted by his mother. With everyone supporting, the two of them grew up healthily even after their parents passed away. Shachi, who likes Nora the most, wakes him up every morning.
Nora spends his happy student life with Michi Kuroki, who is a disciplinary committee, honor student at school and childhood friend of the main character, Yuuki Asuhara, who is a gal but is very bright and can talk his worries to, and more friends at school.
One day, Nora meets a girl who calls herself Patricia at the park on the way to the school. Patricia is a queen at hell, and claims to come here to destroy the life on land. However, she is damaged heavily because she touched the life for the first time, which the energy is stronger than her, so Nora needed to tend her. Patricia asked him to tell her about the mysteries of the life, and he had to even explain the ero book that found at the park...?! (Source: Amazon Japan)
Source:
Official site
Nora to Oujo to Noraneko Heart
on MAL.

RSS Feed