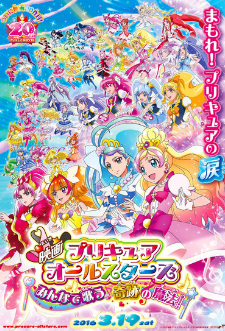 The official site for
Toei Animation
has announced that the eighth movie in the
Precure All Stars
film series, titled
Precure All Stars Movie: Minna de Utau♪: Kiseki no Mahou
, will premiere in Spring 2016. The first tickets for the movie will be available on January 9.
Synopsis
The film's story will revolve around the power that lies in the tears that the Precures hide. The video reveals that the Precures' tears have the power to end the world, and so the Precures must not cry no matter what. The Precures will fight in the world of song and magic to protect their tears. (Source: ANN)
Precure All Stars Movie: Minna de Utau♪: Kiseki no Mahou!
will be the 20th movie in the
Precure
series. Toei Animation has released a
Precure All Stars
movie annually since 2009, with the most recent movie in 2015. In addition to the new movie, the
Precure
series
received
its 13th TV series earlier this week, titled
Mahoutsukai Precure!
.
Trailer
Official site:
http://www.precure-allstars.com/
Source:
Toei Animation
Precure All Stars Movie: Minna de Utau♪ - Kiseki no Mahou
on MAL

RSS Feed