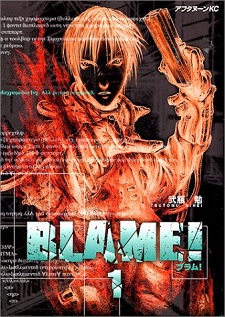 The wraparound jacket of the 15th and final volume of
Tsutomu Nihei
's
Sidonia no Kishi
manga, which will go on sale on November 20, has announced that another of Nihei's works,
Blame!
, will receive an anime movie adaptation.
Blame!
was serialized in Kodansha's
Afternoon
magazine between 1998 and 2003. It was also published in English by the now-defunct North American publisher Tokyopop between 2005 and 2007. That release won the Harvey Award for Best American Edition of Foreign Material.
Previous adaptations include a
net animation series
in 2006, a
prologue OVA
in 2007, and an inserted scene in the eighth episode of
Sidonia no Kishi: Daikyuu Wakusei Seneki
earlier this year.
Synopsis
Killy is a man of few words. He wanders, seemingly endlessly, through a lonely, gargantuan labyrinth of concrete and steel, fighting off cyborgs and other futuristic nightmares, searching only for something called Net Terminal Genes. And he has a very powerful gun, which he uses without hesitation whenever anything resembling danger rears its ugly head.
Who is this quiet, violent, determined man and what are these Genes he seeks? The small communities he finds tucked into the crevices of this towering, dystopic ruin hardly give him leads on his treasure, driving him to find larger enclaves of civilization where people can reveal more about the world he lives in and the quarry he seeks. (Source: Tokyopop)
Source:
Yaraon

RSS Feed