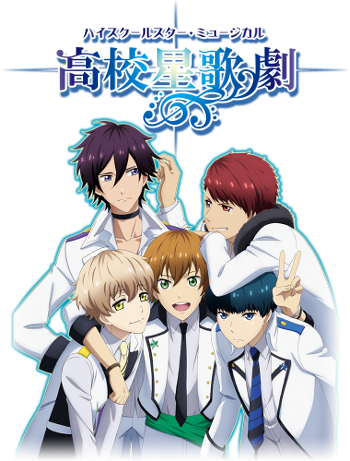 It was revealed on its official website that an original TV anime titled
High School Star Musical
will premiere in Fall 2015.
The story involves a group of high school students at Ayana Academy, a school with music as its main focus. A trio of students called Hanasakura-kai are designated from the most talented of the music department. To get in, individuals must enter through a Star Frame class. The series tells the story of Yuuta Hoshiya*, Tooru Nayuki, Kaito Tsukikage, Shou Tengeiji, and Shuu Kuga as they aim for a position in the musical department after being spotted by Ootori, one of the Hanasakura-kai members.
A preview and more information will be made available at AnimeJapan 2015. The staff and main cast so far have been announced.
Staff
Original Plan: Rin Hinata
Director:
Shunsuke Tada
(
Kuroko no Basket
)
Series Composition:
Sayaka Harada
Character Design:
Asami Watanabe
(
Baka to Test to Shoukanjuu
)
Studio:
C-Station
(
Seikoku no Dragonar
)
Cast
Yuuta Hoshiya*:
Natsuki Hanae
(
Aldnoah.Zero
,
Tokyo Ghoul
)
Tooru Nayuki:
Kensho Ono
(
Aldnoah.Zero
,
Kuroko no Basket
)
Kaito Tsukikage:
Arthur Lounsbery
Shou Taigeiji:
Yoshimasa Hosoya
(
Strike the Blood
,
Death Parade
)
Yuu Kuga:
Tomoaki Maeno
(
Death Parade
,
Log Horizon
)
Itsuki Ootori:
Junichi Suwabe
(
Fate/stay night: Unlimited Blade Works (TV)
)
Tsubasa Hiiragi:
Daisuke Hirakawa
(
Free!
,
JoJo's Bizarre Adventure: Stardust Crusaders
)
Official site:
http://hstar-mu.com/
Source:
Moca-News
* Note: The kanji for Yuuta's family name can be read as both Hoshiya and Hoshitani. This article will be updated with the PV, once it is available, and the correct reading of the character's name.
High School Star Musical
on MAL

RSS Feed