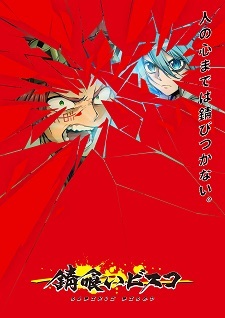 The Light Novel Expo event announced a television anime adaptation of
Shinji Cobkubo
's
Sabikui Bisco
light novel on Saturday.
Hakuhodo DY Music & Pictures
simultaneously opened an official website, revealing the cast, production staff, a teaser promo, and teaser visual (pictured).
Synopsis
A plague-like wind blows across the arid, sandy expanse of a post-apocalyptic Japan. As it sweeps over the living and nonliving alike, rust is all that remains in its wake. The cause of the catastrophic state of the world is believed to be mushroom spores. Bisco Akaboshi, known as the "Man-Eating Mushroom," is a wanted criminal archer whose arrows instantly grow mushrooms wherever they land. However, he is in truth a "Mushroom Protector," a person who spreads fungi in order to enrich the land and return it to its previous state.
Alongside the crab Akutagawa and young doctor Milo Nekoyanagi, Bisco ventures through the wastelands of Japan searching for the legendary "Sabikui"—a panacean mushroom said to devour all forms of rust. [Written by MAL Rewrite]
Cast
Bisco Akaboshi:
Ryouta Suzuki
(
Kaguya-sama wa Kokurasetai: Tensai-tachi no Renai Zunousen
)
Miro Nekoyanagi:
Natsuki Hanae
(
Heavy Object
)
Pauu Nekoyanagi:
Reina Kondou
(
Dorohedoro
)
Chiroru Oochagama:
Miyu Tomita
(
Tonari no Kyuuketsuki-san
)
Staff
Director:
Atsushi Ikariya
(
Akame ga Kill!
episode director)
Assistant Director:
Daisuke Mataga
(
Id:Invaded
episode director)
Series Composition, Script:
Sadayuki Murai
(
Boogiepop wa Warawanai
,
Sidonia no Kishi
)
Character Design: Atsushi Ikariya, Ai Asari (
Garo: Vanishing Line
guest character design,
Utawarerumono: Itsuwari no Kamen
animation director)
Chief Animation Director: Ai Asari, Norie Ikawa (
Zero kara Hajimeru Mahou no Sho
animation director)
Main Animator: Yutaka Matsubara (
Sora no Otoshimono
chief animation director), Momoko Kawai (
Junketsu no Maria
animation director)
In-between Animation Director: Zhang Yihui (
Natsume Yuujinchou Movie: Utsusemi ni Musubu
)
Art Director:
Masakazu Miyake
(
Shoujo Shuumatsu Ryokou
)
Art Setting, Creature Setting:
Yoshihiro Sono
(
Koutetsujou no Kabaneri
)
Color Design:
Emi Chiba
(
God Eater
)
Director of Photography: Tsubasa Takagi (
Devilman: Crybaby
photography)
Editing:
Yoshiaki Kimura
(
Persona 5 the Animation
)
Sound Director:
Kisuke Koizumi
(
Kiseijuu: Sei no Kakuritsu
)
Studio:
OZ
Music producer and bassist
Takeshi Ueda
and music arranger
Hinako Tsubakiyama
are composing the music at
flying DOG
.
Cobkubo submitted the title for the
24th Dengeki Taisho
in 2017 and won the Silver Prize. Dengeki Bunko began printing the adventure fantasy light novel with illustrations by
Akagishi K
and mocha in March 2018. Kadokawa published the sixth volume last June, with the seventh volume scheduled for release on March 10.
Sabikui Bisco
has a cumulative 200,000 copies of its volumes in print.
Yuusuke Takahashi
launched a
manga adaptation
in
Manga UP!
web magazine in April 2019. Square Enix will ship the third and fourth volume on March 10.
Sabikui Bisco
placed first under the Light Novel and New Work category in the
2019 Kono Light Novel ga Sugoi!
rankings.
Teaser PV
Official site:
https://sabikuibisco.jp/
Official Twitter: @
sabikui_bisco
Novel special site:
https://dengekibunko.jp/special/bisco/
Source:
Dengeki Bunko
,
PR Times
Sabikui Bisco
on MAL

RSS Feed