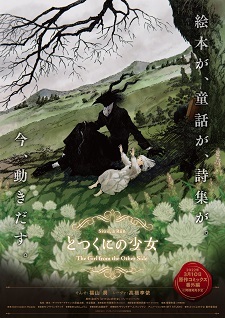 Production company
Twin Engine
announced a feature-length original video anime (OVA) for
Nagabe
's
Totsukuni no Shoujo
(
The Girl From the Other Side: Siúil, a Rún
) manga on Friday. The special edition of the manga's side story volume will bundle the OVA on March 10, 2022.
The feature-length installment serves as a continuation to the 2019
short OVA
produced by
Wit Studio
. The animation studio will launch a Kickstarter campaign on March 10, seeking to raise 3 million yen (approximately US$28,000) by May 9. The fund will be used to improve the production's quality and further expand its promotion.
Jun Fukuyama
(
Ansatsu Kyoushitsu
) and
Rie Takahashi
(
Re:Zero kara Hajimeru Isekai Seikatsu
) are starring as Sensei and Shiva, respectively. Twin Engine simultaneously opened an official website, revealing the main staff, a teaser promo, and key visual (pictured).
Yuutarou Kubo
and
Satomi Maiya
are returning from the short OVA as the directors, scriptwriters, and character designers. Club Jazz trio
Schroeder-Headz
is once again composing the music at
flying DOG
.
Staff
Art Director:
Yuusuke Takeda
(
Bamboo
) (
Mahoutsukai no Yome
)
Director of Photography:
Takeru Yokoi
(Wit Studio) (
Mahou Shoujo Ore
assistant director of photography)
Editing:
Akari Saitou
(
Mishima Editing Room
) (
Devilman: Crybaby
)
Sound Director:
Shouji Hata
(
Boogiepop wa Warawanai
(2019))
Sound Effects:
Noriko Izumo
(
Somali to Mori no Kamisama
)
Sound Production:
Sound Team Don Juan
Studio: Wit Studio
Synopsis
Long ago, there was a god of light and a god of darkness. While those devoted to the god of light experienced happiness and good fortune, the god of darkness would play tricks on the people and steal their joy. And so, as the legend goes, the god of light decided to punish him by turning him into a monster. Enraged by this, the god of darkness wielded his punishment as a curse in order to inflict suffering upon others. Because of his actions, he was banished to the Outside, where he and his monstrous children are to remain for eternity, while those from the Inside must never come in contact with someone from the Outside, lest they be cursed with a hideous form.
A little girl named Shiva, an Insider, is found by an Outsider she comes to know as Sensei. Though they cannot touch, Sensei cares for Shiva as best he can, and together they live a moderately happy life. But soon, Shiva not only finds herself in danger from the Outside, but from her own kind as well. [Written by MAL Rewrite]
Nagabe began drawing the dark fantasy manga in
Monthly Comic Garden
in September 2015 and
concluded
its five and a half years run on Friday. Mag Garden released the tenth volume last September, with the 11th and final volume scheduled for release on April 9.
Seven Seas Entertainment
licensed
the manga in English in June 2016 and
published
the ninth volume on October 27. The tenth volume is scheduled to ship on April 13. The manga has also been published in multiple foreign languages, including French, Polish, and Spanish.
Totsukuni no Shoujo
was nominated for the Best Comic award at the 45th Festival International de la Bande Dessinée d'Angoulême in 2018.
Teaser PV
Official site:
https://www.totsukuni.com/
Official Twitter: @
totsukunishoujo
Crowdfunding campaign page:
https://www.kickstarter.com/projects/witstudio/totsukuni
Source: Press Release,
Comic Natalie
Totsukuni no Shoujo OVA
on MAL

RSS Feed