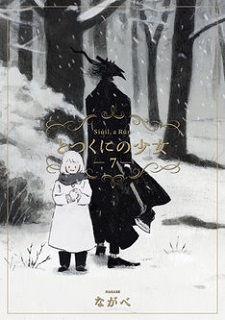 A short art animation adaptation for
Totsukuni no Shoujo
manga has been announced. It will be bundled in eighth volume of the manga to be released on September 10.
Wit Studio
will be producing the short anime with
Yuutarou Kubo
and
Satomi Maiya
, who worked on
Ribbon
key animation, as video directors.
Synopsis
Long ago, there was a god of light and a god of darkness. While those devoted to the god of light experienced happiness and good fortune, the god of darkness would play tricks on the people and steal their joy. And so, as the legend goes, the god of light decided to punish him by turning him into a monster. Enraged by this, the god of darkness wielded his punishment as a curse in order to inflict suffering upon others. Because of his actions, he was banished to the Outside, where he and his monstrous children are to remain for eternity, while those from the Inside must never come in contact with someone from the Outside, lest they be cursed with a hideous form.
A little girl named Shiva, an Insider, is found by an Outsider she comes to know as Sensei. Though they cannot touch, Sensei cares for Shiva as best he can, and together they live a moderately happy life. But soon, Shiva not only finds herself in danger from the Outside, but from her own kind as well. [Written by MAL Rewrite]
Totsukuni no Shoujo
is by
Nagabe
, which serialized via
Comic Garden
magazine since September 2015. Seventh compiled volume has just released today on March 9. Seven Seas Entertainment has been publishing the manga in English as
The Girl From the Other Side: Siúil, a Rún
since January 2017, and seventh compiled volume is scheduled for August 27 release. There are also French, Polish, and Spanish release for the manga.
The manga was also chosen in 45th Festival international de la bande dessinée d'Angoulême as Sélection officielle last year.
Source:
Comic Natalie
Totsukuni no Shoujo
on MAL

RSS Feed