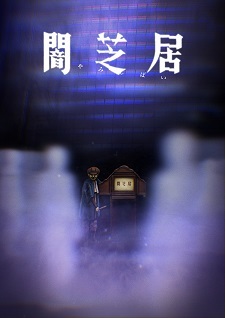 An eighth season for the
Yami Shibai
(
Yamishibai: Japanese Ghost Stories
) short horror anime series was announced by television station
TV Tokyo
on Friday. The new season—centered on the theme of "invisible fear"—will begin airing in January 2021. TV Tokyo's AniTele website will stream each episode a week ahead of the television broadcast.
Kanji Tsuda
is reprising his roles as the storyteller from the previous seasons.
Satoko Kishino
(
Yami Shibai 5
script), who appeared in the third and fourth season, is also returning as a cast member.
Former member of idol groups NGT48, SKE48, AKB48, and currently associated with the latter's sub-unit Not Yet, Rie Kitahara (
Gakkou no Kowai Uwasa Shin: Hanako-san ga Kita!!
), and idol group Niji no Conquistador's Akari Nakamura (
Wooser no Sono Higurashi: Mugen-hen
) are joining the voice cast.
New cast from the animation field include
Miho Okasaki
(
Tensei shitara Slime Datta Ken
),
MoeMi
(
Mangirl!
), and
Oolongta Yoshida
(
Hinomaruzumou
).
Actors
Toshimasa Niiro
(
Sore dake ga Neck
), Yutaka Shimizu (
Summer Wars
),
Masaki Sawai
(
Business Fish
),
Kou Ikeda
(
Grand Maison Tokyo
live-action drama), Ryou Shinoda (
Ore Monogatari!!
live-action film), and
Yuu Aoki
(
Sengoku Chaahan TV
variety program) are serving as voice actors in the new season.
The new season also casts actress
Mika Hijii
(
G-9
), stage actress
Yuka Adachi
(
Iryuu: Team Medical Dragon 4
live-action drama), and singer Tsubasa Kizu (
Ojisan wa Kawaii Mono ga Osuki
live-action drama).
3DCG production company
ILCA
is once again credited the animation studio, with production cooperation by
Toho Interactive Animation
(TIA) and
DRAWIZ
. Yoroshi Aka, Yukio Kanesada, and Saya Kanamura are returning as key animators from the latest season. Asano Tsubo (
Ninja Collection
) and illustrator
Shouma Mutou
are joining the staff as new key animators.
Hiromu Kumamoto
is returning to write the script from the previous installments. Theatre director
Mitsuhiro Sasaki
(
Ghost Scout
live-action film), novice playwright
Saki Kuniyoshi
(
Okaa-san wa Musume ni Naritai
original drama), novelist
Kanako Ishigami
(
Oretachi wa Abunakunai: Cool ni Saboru Keiji-tachi
live-action drama), and screenwriter Norikatsu Kodama (
Tiger & Bunny
script) are joining Kumamoto as scriptwriters.
TV Tokyo and ILCA producers
Norio Yamakawa
(
Aiura
) and
Takuya Iwasaki
(
Kowabon
) are once again credited as series planner.
Satoshi Umetsu
(
Wakaokami wa Shougakusei!
) and
Akira Funada
(
Sekai no Yami Zukan
) are also returning as producers.
"
Twilight feat.Pecori
" by imai, composer of the now-disbanded electronic hip-hop duo group_inou, will be used as the ending theme.
The first
Yami Shibai
anime season aired in Summer 2013 and the
seventh and latest season
premiered in Summer 2019, with each season focusing on a specific theme. Crunchyroll streamed the seasons with subtitles as they aired in Japan. Sentai Filmworks licensed the first two seasons in December 2015 and
released
them on home video in April 2016.
Official site:
https://www.tv-tokyo.co.jp/anime/yamishibai8/
Source:
PR Times
Yami Shibai 8
on MAL

RSS Feed