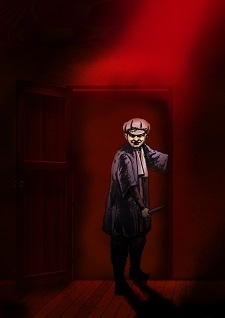 Television station TV Tokyo announced a seventh anime season for the
Yami Shibai
short horror anime series on Monday. The new season—based on the setting of "closed space"—will begin airing in July 2019. Each episode will stream a week ahead of the television broadcast on TV Tokyo's AniTele website.
Kanji Tsuda
is reprising his roles as the storyteller from the previous seasons.
Ryouta Murai
, who appeared throughout the series, is also returning as a cast member.
Television, stage, and variety show actors
Shunsaku Yoshimura
,
Ryou Shinoda
(
Ore Monogatari!!
),
Masaki Sawai
, and
Nobuhiko Ooakami
from the Nanafushigi comedy duo are serving as voice actors in the new season.
New voice cast from the animation and live stage field include
Rimo Hasegawa
(
Mazinger Z: Infinity
),
Sena Horikoshi
,
Hikaru Kotama
(
Usakame
),
Yuuki Nishinoya
, and
Aya Oota
.
The new season also casts virtual YouTuber
Taku Nanase
, and veteran film stars
Kumi Nakamura
(
Hanbun no Tsuki ga Noboru Sora
), Sachiko Nakagome (
Kenchou no Hoshi
), and
Kazuo Andou
(
Tsuru Akira: Kokoro no Kiseki
).
Kenichi Sugimoto is directing the seventh season at
ILCA
, with production cooperation by
IANDA
and
DRAWIZ
.
Hiromu Kumamoto
is returning to write the script from the previous installments. Theatre director
Mitsuhiro Sasaki
(
Ghost Scout
live-action film), occult storyteller
Ayako Yamaguchi
(
Yami Shibai 5
), and novice playwright
Saki Kuniyoshi
are also joining Kumamoto as scriptwriters.
Yuu Ebihara
, Tatsuya Morino, Yukio Kanesada, and Yoroshi Aka are returning as key animators from the last season. New key animators include Seiya Yamaguchi, Atsushi Itou (
Shakugan no Shana II (Second)
), and Saya Kanamura.
TV Tokyo and ILCA producers
Norio Yamakawa
and
Takuya Iwasaki
are returning as series planner. Satoshi Umetsu (
Captain Tsubasa (2018)
) and Akira Funada are credited as producers.
The band
betcover!!
, lead by novice artist
Jirou Yanase
, will perform the ending theme "Kekkai."
The first
Yami Shibai
anime season premiered in Summer 2013 and the sixth and latest season aired in Summer 2018, with each season focusing on a specific theme. Crunchyroll simulcast the seasons as they aired in Japan. Sentai Filmworks licensed the first two seasons in December 2015 and
shipped
them on a Blu-ray and DVD volume in April 2016.
Official site:
https://www.tv-tokyo.co.jp/anime/yamishibai7/
Source:
PR Times
Yami Shibai 7
on MAL

RSS Feed