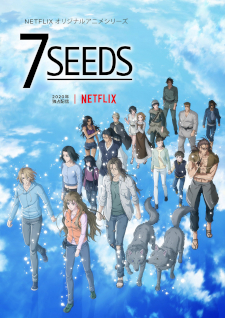 The
anime adaptation
of the
7 Seeds
manga will receive a second season on Netflix. Included in the official website's announcement Monday was a new trailer and key visual (pictured) for the season, which is set to stream in 2020.
The staff and cast will return for the second season, led by director
Yukio Takahashi
and animation studio
Gonzo
. The only key addition is an additional production credit for Studio Kai, a new studio
founded
by Gonzo at the end of July.
The official website also announced a television run for the first season starting in January 2020. The 12-episode season has streamed on Netflix since June 28.
Synopsis
In the immediate future, a giant meteorite has collided with earth. All living organisms, including mankind, have been wiped off the face of the planet. The government, who had foreseen this outcome, took measures to counter the worst-case scenario. In particular was Project "7SEEDS," in which five sets of seven young men and women were carefully selected and placed into teams (Spring, Summer A, Summer B, Autumn and Winter). Each participant was then put under cryogenic sleep in hopes of preserving the continued existence of mankind.
When those men and women awoke, they found themselves suddenly thrust into a cruel world. While bereft and grieved over forever losing their loved ones, they sought to find ways to survive. (Source: MU)
The
7 Seeds
manga was penned by
Yumi Tamura
over a span of 16 years, beginning in
Betsucomi
magazine and a year later switching to
Monthly Flowers
for the remainder of its serialization. The 35th and final volume was released in August 2017.
PV
Source:
Moca News
News tip submitted by
Animechannel2213
7 Seeds 2nd Season
on MAL

RSS Feed