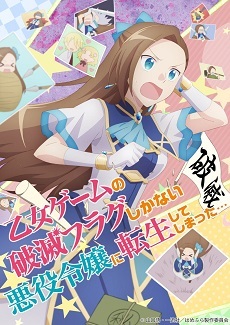 Publishing company Ichijinsha opened an official website for the
Otome Game no Hametsu Flag shika Nai Akuyaku Reijou ni Tensei shiteshimatta...
(
I Reincarnated into an Otome Game as a Villainess With Only Destruction Flags...
) anime series on Sunday, unveiling the lead cast, staff, a key visual (pictured), and the first promotional video. The television anime adapting
Satoru Yamaguchi
's
comedy fantasy light novel
will premiere in April 2020.
Voice actress
Maaya Uchida
(
Yamada-kun to 7-nin no Majo
,
Noragami
) will play the main female character Katarina Claes.
Staff
Director:
Keisuke Inoue
(
Midara na Ao-chan wa Benkyou ga Dekinai
,
Masamune-kun no Revenge
assistant director)
Series Composition:
Megumi Shimizu
(
Butlers: Chitose Momotose Monogatari
,
Akagami no Shirayuki-hime
script)
Character Design:
Miwa Ooshima
(
Gugure! Kokkuri-san
,
Saiunkoku Monogatari
)
Studio:
Silver Link.
Synopsis
Eight-year-old Katarina Claes is the only daughter of a duke, living her life peacefully and without incident until she hits her head on a rock... and then remembers that she is not actually the duke's daughter. She used to be an otaku who died on her way to school after spending the previous night playing Fortune Lover, her favorite otome game. After noticing that her current surroundings seem oddly familiar, she is shocked to discover that she has been reincarnated into the world of Fortune Lover as the villainess.
The villainess in the game usually winds up dead or exiled, so Katarina decides to use her knowledge of the game and its routes to avoid any bad situations. But is it even possible for the villainess to reach a good ending? [Written by MAL Rewrite]
Yamaguchi
began penning
the novel on the Shousetsuka ni Narou website in July 2014. Ichijinsha has been printing the novel with illustrations by
Nami Hidaka
since August 2015 and published the eighth volume on July 20. The light novel has a cumulative 1.5 million copies of its volumes in print.
Hidaka also launched a
manga adaptation
in
Comic ZERO-SUM
in August 2017. Ichijinsha published the third volume on April 25. The fourth volume will go on sale on Friday.
J-Novel Club licensed the light novel series in English for digital distribution last August and
released
the fourth volume on July 16. Seven Seas Entertainment licensed the manga adaptation in the same month and
published
the first volume on August 6. The second volume is planned for a November 19 release.
PV
Official site:
https://hamehura-anime.com/
Official Twitter: @
hamehura
Source:
animate Times
News tip submitted by
_MushiRock11_

RSS Feed