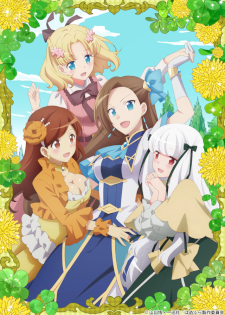 The official Twitter account for the TV anime
Otome Game no Hametsu Flag shika Nai Akuyaku Reijou ni Tensei shiteshimatta...
revealed additional cast members, a new key visual (pictured right), and the third promotional video on Wednesday. The show is set to broadcast on MBS, Tokyo MX, and BS11 on April 4, followed by J:COM on April 6. It will be available on Netflix in the West.
Cast
Mary Hunt:
Miho Okasaki
(
Tensei shitara Slime Datta Ken
)
Sofia Ascart:
Inori Minase
(
Dungeon ni Deai wo Motomeru no wa Machigatteiru Darou ka
)
Maria Campbell:
Saori Hayami
(
Yahari Ore wo Seishun Love Comedy wa Machigatteiru.
)
Previously announced cast members include
Maaya Uchida
(
Norigami
) as Katarina Claes,
Shouta Aoi
(
Oushitsu Kyoushi Heine
) and
Asami Seto
(
Kakumeiki Valvrave
) as Gerald Stuart, and
Tetsuya Kakihara
(
Amnesia
) and
Sora Amamiya
(
Aldnoah.Zero
) as Keith Claes. The anime will be directed by
Keisuke Inoue
(
Midara na Ao-chan wa Benkyou ga Dekinai
) at
Silver Link.
and
Megumi Shimizu
(
Butlers: Chitose Momotose Monogatari
) will handle the series composition. Character designs are by
Miwa Ooshima
(
Baka to Test to Shoukanjuu
).
PV
Source:
Comic Natalie

RSS Feed