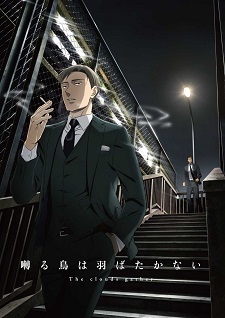 Television station Fuji TV announced an anime film adaptation of
Kou Yoneda
's
Saezuru Tori wa Habatakanai
(
Twittering Birds Never Fly
) boys' love manga on Friday. Subtitled
The Clouds Gather
, the film will open in Japan this winter.
Saezuru Tori wa Habatakanai
will be the first title under Fuji TV's Blue Lynx label, which the company
launched
on Tuesday. The label will focus on the boys' love genre and primarily produce theatrical animation.
Synopsis
Yashiro is the young leader of Shinseikai and the president of the Shinseikai Enterprise, but like so many powerful men, he leads a double life as a deviant and a masochist. Chikara Doumeki comes to work as a bodyguard for him and, although Yashiro had decided that he would never lay a hand on his own men, he finds that there is something about Doumeki that he can't resist.
Yashiro makes advances toward Doumeki, but Doumeki has mysterious reasons for denying. Yashiro, who abuses his power just to abuse himself, and Doumeki, who faithfully obeys his every command, begin the tumultuous affair of two men with songs in their hearts and no wings to fly. (Source: Digital Manga Publishing)
Staff
Director: Kaori Makita (
Banana Fish
episode director)
Script:
Hiroshi Seko
(
Owari no Seraph
)
Music:
H Zettrio
(
Juushinki Pandora
insert song arrangement)
Studio:
GRIZZLY
Teaser PV
Yoneda began serializing the action boys' love manga in Taiyou Tosho's
ihr hertZ
magazine in March 2008. The sixth volume is scheduled for a May 1 release. The manga has a cumulative 1.4 million copies of its compiled volumes in print.
Digital Manga, Inc. licensed the manga in English under its Juné imprint in August 2013 and published the third volume in March 2017. The manga has also been localized in multiple foreign languages, including Polish and Spanish.
Saezuru Tori wa Habatakanai
ranked
4th in the manga division in the 2016 edition of Sugoi Japan Award.
Official site:
http://saezuru.com/
Official Twitter: @
saezuru_anime
Blue Lynx official site:
http://bluelynx-label.com/
Blue Lynx official Twitter: @
bluelynx
Source:
Comic Natalie
Saezuru Tori wa Habatakanai: The Clouds Gather
on MAL

RSS Feed