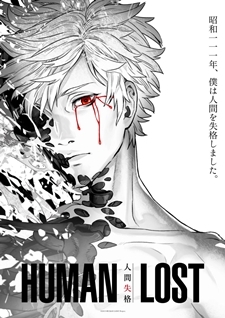 Osamu Dazai
's novel
Ningen Shikkaku
(
No Longer Human
) gets an anime movie adaptation titled
HUMAN LOST Ningen Shikkaku
to screen in Japanese theaters as well as worldwide this year.
Mamoru Miyano
will portray the main lead Youzou Oba.
Story
"Mine has been a life of much shame."
Tokyo, 2036 (Showa year 111): a revolution in medical treatment has conquered death...
By means of internal nanomachines and the "S.H.E.L.L." system whose network controls them, human beings suffer no diseases, require no treatment for injuries, and are guaranteed a 120-year lifespan, free from illness. Yet this consummate social system warps the Japanese nation in a host of ways: unresolved economic disparities, ethical decadence resulting from deathlessness, grave environmental pollution, and the "Human Lost" phenomenon, in which people themselves, disconnected from the S.H.E.L.L. network, become malformed. Japan teeters wildly between two potential futures: civilization's restoration or its destruction.
Atmospheric pollution suffuses "Route 16" in the Outside—the area outside the Route 16 beltway. Youzou Oba, who lives an idle, drug-saturated life, joins Masao Horiki, a mysterious man who associates with the drag-racing gangs, on an incursion Inside—the area within the Route 7 loop where the privileged class lives—only to be embroiled in a violent struggle. When he encounters a malformed sufferer of the Human Lost phenomenon, a "Lost," Youzou's life is saved by Yoshiko Hiiragi, a girl of mysterious abilities who belongs to the anti-Lost agency H.I.L.A.M., and he discovers that he himself also possesses extraordinary powers...
Degradation and death. Life and hope. Buffeted by fate, a man tears himself apart and cries out. Rage. Sorrow. Pathos. Consumed by despair and bitter tears, Youzou Oba is himself transformed into a demon. A human lost... or a human who can find himself? (Source: Official site)
Staff
Supervisor:
Katsuyuki Motohiro
(
Psycho-Pass
director)
Director:
Fuminori Kizaki
(
Afro Samurai
)
Storyboard, Script:
Tow Ubukata
(
Ghost in the Shell Arise
)
Character Designer:
Yuusuke Kozaki
(
Bakumatsu Kikansetsu Irohanihoheto
)
Concept Art: Kenichiro Tomiyasu (INEI)
Planning, Producer: MAGNET, SlowCurve
Domestic Distribution:
TOHO VISUAL ENTERTAINMENT
Studio:
Polygon Pictures
The novel serves as Dazai's final complete published work as he took his life a few days after the book was published. Whilst released in 1948, it remains as the second best-selling novel in Japan behind
Natsume Souseki
's
Kokoro
. To commemorate Dazai's 100th birthday in 2009, a movie adaptation of the novel was announced, which was later screened the next year. It spawned a new movie adaptation starring
Shun Oguri
and will be released on September 13, 2019. The first four episodes of studio
Madhouse
's 12-episode 2009 TV anime
Aoi Bungaku Series
also adapted the novel. In the 2011 Future Film Festival held in Italy, the series won the Platinum Grand Prize.
Additionally, the novel was adapted into three versions of manga. The first is a
direct retelling
of the novel that was commissioned for the "Manga de Dokuha" series, published by Gekkan in 2007. Followed by
Usamaru Furuya
's
three-volume adaptation
that was serialized under Shinchosha's
Comic Bunch
magazine from 2009 to 2011. In 2010, a
five-chapter manga
by
Yasunori Ninose
was serialized under Akita Shoten's
Champion RED
magazine.
Junji Itou
also drew a
three-volume adaptation
that was serialized under Shogakukan's
Big Comic Original
magazine from 2017 to 2018.
The 2007 manga was published in English digitally by the now-defunct JManga while the 2009 manga was published in English as
No Longer Human
by Vertical Inc. from 2011 to 2012.
Teaser Trailer
Official site:
https://human-lost.jp/
Official Twitter: @
HUMANLOST_PR
Source:
Moca News
Human Lost: Ningen Shikkaku
on MAL

RSS Feed