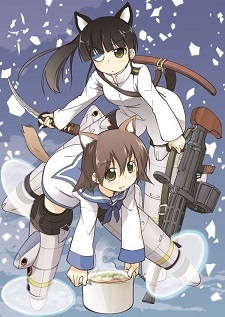 The official website of the
World Witches
franchise announced staff members for the
previously announced
anime adaptation
of
Makoto Fujibayashi
's
Strike Witches: 501 Butai Hasshin Shimasu!
manga on Tuesday. The anime series will both air on TV and stream online beginning Spring 2019.
Staff
Director: Fumio Itou (
Kino no Tabi: The Beautiful World - The Animated Series
episode director)
Character Design: Kei Ajiki (
Rokuhoudou Yotsuiro Biyori
)
Series Literature: Shinya Murakami (
Brave Witches
literature cooperation)
Music:
Seikou Nagaoka
(
Muv-Luv Alternative: Total Eclipse
)
Music Production:
Nippon Columbia
Sound Director:
Tomohiro Yoshida
(
Strike Witches
)
Sound Production:
Glovision
Producer: Takashi Tachizaki (
Chio-chan no Tsuugakuro
)
Studio:
Acca Effe
, Giga Production
Production Cooperation:
Production I.G
,
Anime Beans
Production: 501st Joint Fighter Wing 2019
Fujibayashi serialized the manga in
4-koma Nano Ace
magazine between 2011-2012. Kadokawa published the manga in two volumes in March and October 2012. The original work is credited to
Humikane Shimada
and Projekt Kagonish.
The anime is celebrating the franchise's 10th anniversary, along with
Strike Witches: Road to Berlin
and
Luminous Witches
, which are scheduled to premiere in 2020 and 2021, respectively.
Source:
Ota☆Suke

RSS Feed