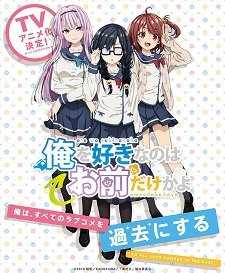 The Dengeki Bunko 25th Anniversary Aki no Dengekisai event announced on Sunday that
Rakuda
and
Buriki
's romantic comedy light novel
Ore wo Suki nano wa Omae dake ka yo
(
The only one who loves me is you?!
) will receive a TV anime.
Synopsis:
What would you do if a girl you like confesses to you? Besides, what if it were not just one girl? Cool high school student that loves the whole school and your hilarious and cheerful childhood friend. Yes, you would be crazy with happiness. But, what if an unexpected problem arises because of the content of this confession? (Source: MU)
Staff
Director:
Noriaki Akitaya
(
Bakuman.
)
Character Design:
Shouko Takimoto
(
Death March kara Hajimaru Isekai Kyousoukyoku
)
Series Composition, Script: Rakuda (Original Creator)
Studio:
Connect
Cast
Amatsuyu Kisaragi (Jorlo):
Daiki Yamashita
(
Re:Creators
)
Sumireko Sanchouin (Pansy):
Haruka Tomatsu
(
Darling in the FranXX
)
Aoi Hinata (Himawari):
Haruka Shiraishi
(
Tsuki ga Kirei
)
Sakura Akino (Cosmos):
Sachika Misawa
(
Mahou Shoujo Ore
)
Announcement
Note: The video is region-locked; click here for an alternative link
.
Ore wo Suki nano wa Omae dake ka yo
has been published under Kadokawa's Dengeki Bunko label since February 2016. The tenth volume is planned for a November 10 release. The light novel series won Gold Prize in the 22nd Dengeki Novel Awards.
Yuu Ijima
launched a
manga adaptation
in
Shounen Jump+
in February 2017, which has two volumes in print as of March 2.
Official site:
https://oresuki-anime.com/
Official Twitter: @
oresuki_anime
Source:
Dengeki Online
Ore wo Suki nano wa Omae dake ka yo
on MAL

RSS Feed