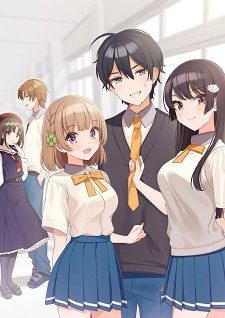 Publishing company Kadokawa announced a television anime adaptation of
Shuichi Nimaru
's
Osananajimi ga Zettai ni Makenai Love Comedy
(
The Romcom Where The Childhood Friend Won't Lose!
) light novel on Saturday. The anime series is scheduled for a 2021 premiere.
Staff
Director, Character Design:
Takashi Naoya
(
3D Kanojo: Real Girl
,
Yahari Ore no Seishun Love Comedy wa Machigatteiru. Zoku
episode director,
Joshiraku
chief animation director)
Series Composition:
Yoriko Tomita
(
Beelzebub-jou no Okinimesu mama.
,
Ore no Kanojo to Osananajimi ga Shuraba Sugiru
script)
Sub-character Design:
Atsushi Soga
(
Sewayaki Kitsune no Senko-san
chief animation director,
GJ-bu
prop design)
Studio:
Doga Kobo
Cast
Sueharu Maru:
Yoshitsugu Matsuoka
(
Sakura-sou no Pet na Kanojo
)
Kuroha Shida:
Inori Minase
(
Seishun Buta Yarou wa Bunny Girl Senpai no Yume wo Minai
)
Kachi Shirokusa:
Ayane Sakura
(
Charlotte
)
Maria Momosaka:
Saori Oonishi
(
Saenai Heroine no Sodatekata
)
Tetsuhiko Kai:
Nobunaga Shimazaki
(
Sword Art Online: Alicization
)
Synopsis
My childhood friend Shida Kuroha seems to have feelings for me. She lives next door, and is small and cute. With an outgoing character, she's the caring Onee-san type, this being one of her greatest strengths.
...But, I already have my first love, the beautiful idol of our school, and the award-winning author, Kachi Shirokusa! Thinking about it rationally, I should have no chances with her, but, while walking home from school, she only talks to me, with a smile even! I might actually have a chance, don't you think?!
Or so I thought, but then I heard that Shirokusa already has a boyfriend, and my life took a turn for the worse. I want to die. Why is it not me?! Even though she was my first love... As I was drowning in despair and depression, Kuroha whispered.
—If it's that tough for you, then how about we get revenge? The best revenge ever, that is~ (Source: Novel Updates, edited)
Nimaru launched the romantic comedy light novel—also known by its short name
Osamake
—through the Dengeki Bunko imprint last June, featuring illustrations by
Ui Shigure
. Kadokawa will ship the fifth volume on October 10 and bundle a drama CD with the sixth volume's limited edition on February 10, 2021.
Osamake
has a cumulative 350,000 copies of its volumes in print.
Ryou Itou
began serializing a
manga adaptation
in
Monthly Comic Alive
on November 27 last year. Kadokawa is scheduled to release the second volume on February 10, 2021, which will also include a separate drama CD with its limited edition. Pre-orders for the limited edition volume will be accepted through November 10.
Teaser PV
Official site:
https://osamake.com/
Official Twitter: @
osamake_project
Novel special site:
https://dengekibunko.jp/special/osamake/
Source: Press Release,
Comic Natalie
Osananajimi ga Zettai ni Makenai Love Comedy
on MAL

RSS Feed