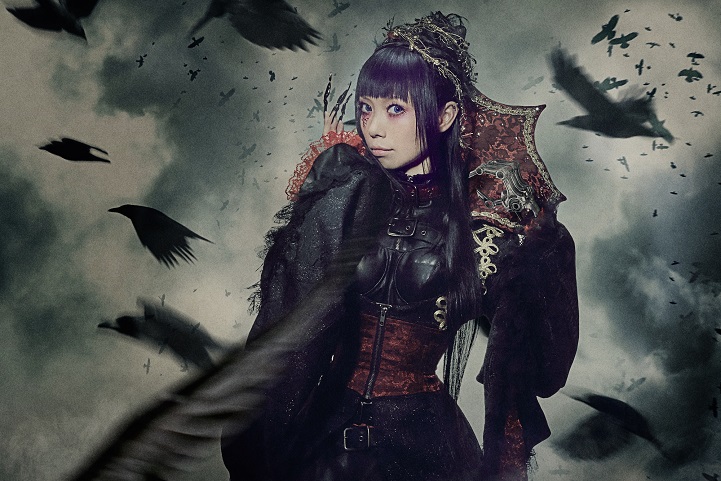 This year, gothic metal band
Yousei Teikoku
is commemorating their 20th anniversary. Ahead of their special performance at
Otakon
® 2017 in Washington, DC, in August, MyAnimeList is pleased to interview
Yui
, the Empress of the Fairy Empire.
Yousei Teikoku was founded on the idea that humanity's dwindling belief in fairies must be reversed in order to bring back the purity in people's hearts. It was in year 1997 in Nagoya when the Empress of the Fairy Empire, Yui (vocals), first joined with Takaha Tachibana (guitar) and named themselves "Yousei Teikoku Dai San Gakutai." Yousei Teikoku ("Fairy Empire" in Japanese) is the shortened name. They then scouted three members in Midgard, Nanami (bass), Shiren (guitar), and Gight (drums).
The band merges heavy and aggressive rock music with metal, classical, and techno. They have contributed numerous songs for anime series and video game soundtracks including
Mirai Nikki
(
Future Diary
),
Renkin 3-kyuu Magical? Pokaan
,
Innocent Venus
,
Kurokami The Animation
,
Seikon no Qwaser
(
The Qwaser of Stigmata
),
Mai-HiME
,
Valiant Knights
,
Big Order
, and
Tokyo ESP
.
Out of all the songs you have performed thus far, which one would be your favorite when it comes to performing for your fans?
There are several songs that fit the criteria, but if I must choose it would be "Patriot Anthem." It is a song that allows the audience to feel the energy of the interaction between our power and their power.
How do you feel about the changes the band has gone through since its beginnings? How has that played out for the music and aesthetics of the band?
When a new wind blows into the picture, it is possible that we can see a new scenery emerge. This kind of change has been wonderful, for we have always sought change and will continue to do so. I believe we have been able to remain active on this earth for 20 years because we were able to choose new values and directions through such change.
What do you think of your first albums from the 1990s? Would you like to revisit any songs from that period?
I believe there has been a considerable amount of change in our musical character. However, I have never once looked back with regret upon the music I brought into this world. Still, I am certain there are a number of older songs that would take better form if they were reborn using our current band arrangements.
Your songs seem to be telling listeners fairy tales of a giant world with its own mythology. Can you describe how your songs are connected together?
Rather than conveying the mythology of a single particular world, my intention is to convey various different worldviews from a variety of angles. However, the mythologies of various nations closely resemble one another, and I feel that the fundamental desires, fears, hopes, and likes are all connected even though our places of residence are different from one another. (
Interviewer note
: In the German language, which Yousei Teikoku borrows heavily from, the term
weltanschauung
is used to describe the philosophy of life or the worldview of an individual or group.)
How do you feel when you hear one of your songs playing in an anime series?
When I watched our first tie-up song, "
Senketsu no Chikai
," airing for the first time, I recall being very moved by how the animation was overflowing with a sense of speed along with our composition.
Which anime did you grow up watching?
I believe they were works of Ghibli and Disney. I have always loved
Majo no Takkyuubin
(
Kiki's Delivery Service
).
When starting a new band, how does one ensure that it is not seen as "just another band in the genre" by the public? What do you think is the key to developing your own unique identity that will help you stand out?
Become absorbed in the things and activities you love, and creating with that same sensation of love. That is all there is. As for me, my singing is my specialty and originality.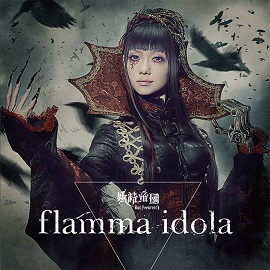 Yousei Teikoku's 20th anniversary single, "flamma idola," showcases that
GOTHIC LOLITA PROPAGANDA
is still in full effect and coming at you fast. It sets itself apart from their 2015 album
SHADOW CORPS[e]
by leaving behind the military motif. Yui's fast-paced vocals propel the listener through all three new songs in this single.
The title track "flamma idola" – a 4-minute rock anthem – sets the stage for a grand visit to the Fairy Empire. The second piece, "Veludo Papilio," turns to slightly softer rhythms without losing the intensity of Yui's vocals. Finally, the single concludes with a lively yet ominous song titled "Naikan Uchuu Shisha no Yurikago" that just loves to repeatedly switch up the pace.
"flamma idola"
(LACM-14620, ¥1,300 + tax)
1. flamma idola
2. Veludo Papilio (天鵞絨パピリオ)
3. Naikan Uchuu Shisha no Yurikago (内観宇宙死者のゆりかご)
4. flamma idola (Instrumental)
5. Veludo Papilio (Instrumental)
6. Naikan Uchuu Shisha no Yurikago (Instrumental)
Overall, "flamma idola" sounds fantastic and is a strong invitation to see the five-member unit perform live in August. The single will go on sale on May 31, 2017, and will also be released simultaneously on the U.S. iTunes Store:
https://itunes.apple.com/us/artist/yousei-teikoku/id266647368
CM
Yousei Teikoku official website:
http://www.dasfeenreich.com/
Anisong World Matsuri Facebook:
https://www.facebook.com/AnisongWorldMatsuri/
Anisong World Matsuri at Otakon® 2017:
https://www.otakon.com/concerts/anisong/

RSS Feed