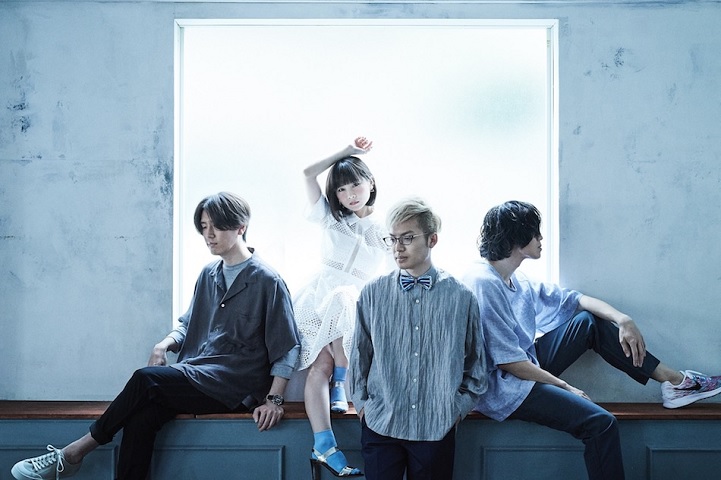 As the number of bands performing anime theme songs has increased in recent years, one band that stands out with its unique vocals and compositions is the four-person pop band
fhána
. Although the group began as an indie band with guest vocalists in 2012, they quickly built a reputation for expressive compositions and were eventually signed by the record company
Lantis
in 2013.
fhána made their international concert debut at Anime Weekend Atlanta in 2015, and they have since held performances in Kuala Lumpur, Taipei, and Shanghai. Their latest international performance will be at C3AFA Jakarta on August 19, 2017. Having also recently completed their third national live tour in Japan in May, fhána will release their 12th CD single "Hello! My World!!" on August 2.
"Hello! My World!!" currently serves as the opening theme song of the anime series
Knight's & Magic
, which began airing on July 2. Two versions of the physical CD single will be sold, each priced at 1,200 yen. The artist edition will contain the B-side track "Kimi no Sumu Machi," while the anime edition will contain the B-side track "reaching for the cities." Both editions will also be simultaneously released on the U.S. iTunes Store.
Individually, please introduce and describe one of the other members of the band.
Towana
(describing Yuxuki Waga): Level-headed person. The guitar is his friend.
Junichi Sato
(describing Towana): First impression was that she's an enigmatic person. Current impression is that she's a curiosity. There's an aura of innocence around her. Since our formation, she has grown very much as a singer.
Yuxuki Waga
(describing Kevin Mitsunaga): Restless mood-maker.
Kevin Mitsunaga
(describing Junichi Sato): Like a ship's captain who guides the creative foundation of fhána. He's a reliable person.
When the band first started out, what experience did you find most challenging?
Sato
: Before we debuted, we released an independent album titled
New World Line
. In order to produce the CDs in time for Comiket, I had to make a plea to the company pressing our CDs to have them done at the last moment. It's an awful memory to have, but even after our debut I still feel like I'm being chased by deadlines!
With your extensive anisong work, many overseas anime fans have come to recognize your uplifting music and Towana's unique vocals. Are there any songs off your two studio albums which you think express a different style that anime fans may not have heard from you yet?
Sato
: From our first album, one example is the characteristically pop-sounding "
lyrical sentence
." There is also "white light," a majestic song woven together by loud guitar and strings. From our second album, "
Relief
" has a more serious tone that you can dance to. You also won't be able to hear anything like "critique & curation" in an anime tie-up song because it's sung by me instead of Towana.
1st Album Outside of Melancholy Trial Listening Video

A few of your songs, such as "divine intervention" (Witch Craft Works) and "calling" (Tales of Zestiria the X), have a more serious and somber tone. Was there any difference in the creation process of these songs? Can we expect more songs in this style in the future?
Sato
: Anime tie-up songs are made to fit the story of the anime and its worldview, so there isn't really any difference between the process of creating an uplifting song and that of creating a serious song. There is an emphasis for the result to have a strong affinity with the anime. If there is an anime where a more serious tune fits the work, I will create such a song.
"Aozora no Rhapsody" (Kobayashi-san Chi no Maid Dragon) is very fun and energetic, but does Towana find the fast-paced lyrics challenging? Are there other songs that the other band members find challenging to perform?
Towana
: "Aozora no Rhapsody" certainly has a fast tempo, and there are a lot of words that have to flow with the song. Singing while dancing at the same time is difficult, but I think it's a very fun song to sing because I love to get carried away by the rhythm.
Sato
: "Aozora no Rhapsody" is not only fast, but it also has a lot of changes in key. It's easy to get mixed up if we lose focus. Another song, "little secret magic," has many accented pauses and can be difficult to memorize.
Waga
: "
Wonder Stella
" (
Fate/kaleid liner Prisma☆Illya 2wei Herz!
) has a composition that unfolds in a dizzying manner that it can become difficult to concentrate because there are many changes in the key.
Mitsunaga
: In the single "calling," the song "Anemone no Hana" calls for playing the glockenspiel with speed and precision, so it has to be played with full effort.
2nd Album What a Wonderful World Line Trial Listening Video

How do you, as a group or individually, prepare before performing on stage?
Towana
: I do some deep breathing and ready myself to meet the audience.
Sato
: I think about the overall flow of the performance and then create an image out of it.
Waga
: I go over the details in the music phrases and prepare myself to have fun.
Mitsunaga
: I organize and arrange the audio data and other things we will use in the performance.
As fans of Clannad, you were able to perform "Toki wo Kizamu Uta" with Lia at Animelo Summer Live 2016. Kevin Mitsunaga has previously described how this experience was very important to both him and the band. Could you elaborate on this experience?
Mitsunaga
: The members of fhána became acquainted on social networking sites, but we were able to become friends because we all like
Clannad
. fhána was formed with the concept of wanting to produce music that will bring out expressions in the way that
Clannad
can make audiences emotional and cry through its worldview.
Therefore, when we were able to perform the TV anime
Clannad: After Story
theme song "Toki wo Kizamu Uta," each of us was very moved emotionally. For me personally, being able to perform with Lia was like a dream that we never expected to come true when we formed fhána. I think this sense of joy will have a big influence on my future music activities.
"Toki wo Kizamu Uta" at Animelo Summer Live 2016

Are there any particular musical styles you'd like to experiment with in the future?
Towana
: Rhythmic pop songs and rock songs.
Sato
: Towana's rapping turned out very nicely, so I want to increase the amount of rap. The stoic sound of club music is good too, as well as soul music.
Waga
: Groovy, funk-like songs.
Mitsunaga
: I would support leaving pop entirely and going all the way into electronic music. I want to challenge myself with melodies that have a more avant-garde atmosphere.
What was your first experience recording a music video like? I understand you worked with Hideaki Fukui, who has directed many great music videos in his career.
Towana
: Our first filming was in Kyoto, which has a strong connection to our debut song "
Que Sera Sera
" (
Uchouten Kazoku
). I was very nervous because I didn't know how I should act in front of the camera, but director Fukui left us with wonderful footage even with me in that state.
"Que Sera Sera" Music Video

Your latest single "Hello! My World!!" is the opening theme song of the new anime series Knight's & Magic. What were your impressions of the work as you were creating the song?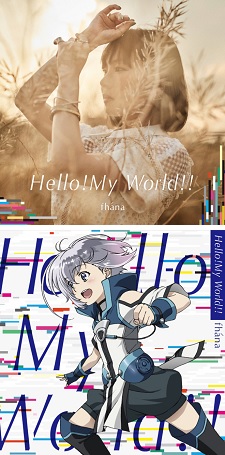 Sato
:
Knight's & Magic
is about a genius programmer who loves robots and by accident finds himself reincarnated with his memories intact in a world where magic and robots coexist. He goes on to do many extravagant things using the knowledge from his previous life as a programmer.
I empathized with the protagonist and his straightforward enthusiasm for the things he likes, allowing him to open the path in front of him. I made the song by putting together the same candidness, exhilaration, and hope into the creation process. Also, the protagonist Eru is very cute.
What is your favorite aspect of the "Hello! My World!!" single, whether from the title song or the coupling song?
"Hello! My World!!"
Towana
: The song changes as it progresses through the melodies.
Sato
: It has a unique composition and melody that makes the music refreshing.
Waga
: There's a feeling of release in the song.
Mitsunaga
: There's a gap in how the lyrics are very candid, yet the musical composition is somewhat complicated.
"Kimi no Sumu Machi" (artist edition)
Towana
: It's fun singing along with the band!
Sato
: It has a simple arrangement, and the rhythm section creates a great feeling of groove.
Waga
: There are a lot of accents, so it's fun to play.
Mitsunaga
: There's a certain nimbleness unique to the band sound.
"reaching for the cities" (anime edition)
Towana
: This is the first time I'm taking on the challenge of rap. I also like the bittersweet lyrics.
Sato
: The character of Towana's rapping and the guitar.
Waga
: The sound's characteristics and the sound of the guitar.
Mitsunaga
: It's the first time fhána is experimenting with rap. There's also a chorus in English repeated in the song.
"Hello! My World!!" Music Video

fhána official website:
http://fhana.jp/
fhána Facebook:
https://www.facebook.com/fhanamusic/
fhána Twitter:
https://twitter.com/fhana_info
fhána on U.S. iTunes Store:
https://itunes.apple.com/us/artist/fhana/id516817774

RSS Feed