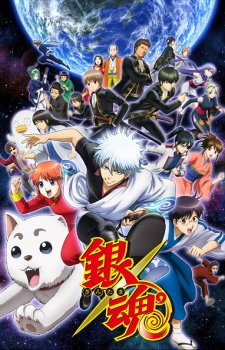 Crunchyroll
announced their English dub of
Gintama°
on Wednesday. Episodes 266 to 278 are currently available for streaming worldwide, excluding Asia. Additional dubbed episodes will be released every Wednesday in February.
Cast
Gintoki Sakata:
Michael Daingerfield
Shinpachi Shimura:
Cole Howard
Kagura:
Jocelyne Loewen
Tae Shimura:
Janyse Jaud
Kotaro Katsura: Matt Ellis
Toshiro Hijikata:
Michael Adamthwaite
Sogo Okita:
Vincent Tong
Isao Kondo:
Jason Simpson
Sagaru Yamazaki:
Adrian Petriw
Tsukuyo: Marlie Collins
Tatsuma Sakamoto:
Andrew Francis
Tama:
Chantal Strand
Yagyu Kyubei: Advah Soudak
Gintama°
aired in Spring 2015 for 51 episodes and was streamed by Crunchyroll. The company
announced
in July 2016 that it would release select titles in Blu-ray and DVD with English dub, including
Gintama
. The
fourth season
of the series premiered in January, and is currently being simulcast by Crunchyroll.
Source:
Crunchyroll
News submitted by
exodvs

RSS Feed