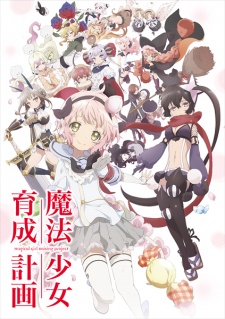 Additional cast members for studio
Lerche
's upcoming
anime adaptation
of
Mahou Shoujo Ikusei Keikaku
were revealed in a new promotional video released on the official site. The series is expected to premiere on October 2 at 00:00 JST via AT-X.
La Pucelle:
Ayane Sakura
(
Gochuumon wa Usagi Desu ka?
)
Top Speed:
Yumi Uchiyama
(
Yuuki Yuuna wa Yuusha de Aru
)
Fav:
Kurumi Mamiya
(
Gakkou no Kaidan
)
Character PV 1
Note: The video is region-locked; click here for an alternative link.
The anime series will adapt the light novel written by
Asari Endou
and illustrated by
Maruino
. The novel series has been publishing since June 8, 2012 and has ten volumes released so far, with the most recent one released on April 9, 2016. In addition to the anime adaptation, the series previously received a two-volume
manga adaptation
drawn by
Pochi Edoya
, as well as a drama CD bundled with a fan guide book. An official fanbook will be released on September 17.
Source:
Ota☆Suke

RSS Feed