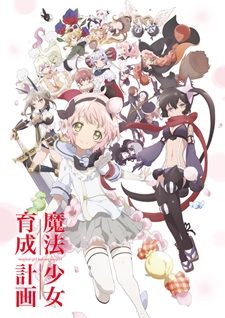 The official website of the TV anime
Mahou Shoujo Ikusei Keikaku
has revealed its main cast members, theme song performers, key visual (shown), and story synopsis. Flying Dog also released its second promotional video featuring the characters designed by
Yukiko Aikyou
. The anime is scheduled to broadcast in October 2016.
The opening theme, titled "Sakebe" (Shout), will be performed by
Manami Numakura
.
Lerche
will animate the series under
Hashimoto Hiroyuki
's direction.
Takao Yoshioka
is in charge of the script and series composition.
Cast
Snow White:
Nao Touyama
(
Kiniro Mosaic
)
Ripple: Manami Numakura (
Dagashi Kashi
)
Synopsis
In a risky, unreasonable game, 16 girls are trapped. For the magical girls to remain in their positions at stake, a cruel battle begins! To fool, outwit, compete; all in becoming the only magical girl left. Then one day, the management arbitrarily decides that "There are too many magical girls, so the number will be halved." One by one, within a span of a week, they decrease. While being under the mercy and toyed around by the mastermind, these magical girls need to come up with plans so they can continue as one. Transforming into being cold and ruthless, the girls still have their feelings. Will they be able to survive the relentless and cruel survival game?
PV
Note: The video is region-locked; click here for an alternative link
.  
Source:
Ota☆Suke

RSS Feed