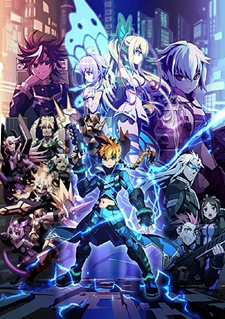 It was announced on a panel at Anime Expo 2016 that 3DS game
Armed Blue: Gunvolt
(
Azure Striker Gunvolt
) will get an OVA adaptation in the Winter months of 2016.
Game Synopsis
In the near future, there are people with special power called Sevens. It seems like the country has maintained peace by a company called Sumeragi Group, but they are the one who captured the people with the special power by force and did inhumane experiments. Gunvolt, the main character who has the power of Sevens, used to be in Feather, a resistant group who fought against the Sumeragi Group. The story begins with meeting the heroine, Sian.
Staff
Director, Storyboard, Production:
Yoshinori Odaka
(
Cross Fight B-Daman
)
Script:
Shigeru Murakoshi
(
Garo: Honoo no Kokuin
)
Character Design, Illustration Director: Masakazu Sunagawa (
Lovely Complex
)
Action Art Director, Key Animator: Hirota Kawase (
Arve Rezzle: Kikaijikake no Yousei-tachi
)
Prop, Mechanical Design: Ryuuta Nakahara (
Psycho Pass
)
Film Director: Baek-Ryun Chae (
Hanasaku Iroha
)
Art Director:
Kenichi Kurata
(
Seirei Tsukai no Blade Dance
)
Color Setting: Kana Terabun (
Toradora!
)
Video Check: Mikie Matsuyama
Art: Baku Production (
City Hunter
)
Film:
LandQ Studio's
Studio: Tohokushinsha Film Corporation x LandQ Studio's
Armed Blue Gunvolt
is a single-player Japanese action game directed by Yoshihisa Tsuda under the production of IntiCreates. It was released on the Nintendo 3DS platform in August 2014 and on Microsoft Windows the following year. Its sequel and a starter pack will be released on September 30, 2016.
PV
Source:
Dengeki Online
Armed Blue: Gunvolt
on MAL

RSS Feed