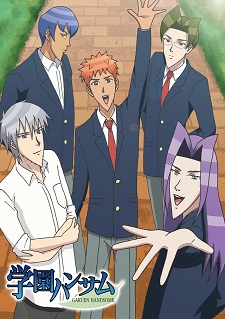 Tohoku Penet launched a crowdfunding campaign on Friday with the goal of adapting Team YokkyuFuman's BL visual novel
Gakuen Handsome
into a TV anime. The campaign aims to raise a total of 2 million yen by July 29, with the funds being used to help bring the series to terrestrial networks.
According to the Makuake campaign page, the series is currently scheduled to air over one cours beginning October 2016, consisting of 12 three-minute episodes and an unaired episode to be released on DVD. Production of full opening and ending songs are also part of the campaign objectives.
The visual novel's original developer, Team YokkyuFuman, will produce the animation with support from Tohoku Penet. Toneso Kiashi, who directed the game's production, will also direct the anime adaptation with cast members from the visual novel, instead of using the cast of the 2015
OVA
adaptation.
Synopsis
An infamous parody of the BL genre.
Yoshiki Maeda is a seventeen-year-old boy who transfers back to the city after a seven-year absence, and enrolls in a prestigious all boys school which takes pride in being the best among its prefecture. Changes are going to be made in his life, surrounded by faces both new and old. (Source: VNDB, edited)
Campaign site:
https://www.makuake.com/project/animehandsome
Source:
Famitsu
Gakuen Handsome
on MAL

RSS Feed