It was announced via the official Twitter account that the boys' love (BL) game
Gakuen Handsome
will be getting an OVA adaptation. The news was interpreted initially as an April Fools' joke, in part due to the game being considered an infamous parody of the BL genre; however, publisher Tohoku Penet confirmed today that the announcement was legitimate. Titled
Gakuen Handsome the Animation
, the anime will be released on DVD on August 28. Animation production will be done by the game's developer, Team YokkyuFuman, under the supervision of Tohoku Penet.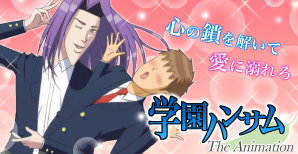 Synopsis
The protagonist is an unnamed seventeen-year-old boy who transfers back to the city after a seven year absence and enrolls in a prestigious all-boys school which takes pride in being the best among its prefecture. Changes are going to be made in his life, surrounded by faces both new and old. (Source: VNDB)
In 2010, the game was released for both Windows and Mac computers. It was then ported to iOS and Android systems in December 2013.
Source:
Official Tweet
Gakuen Handsome The Animation
on MAL

RSS Feed