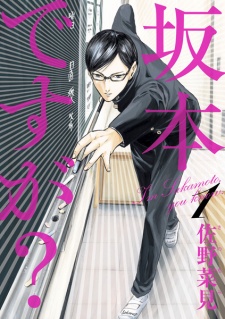 A wraparound jacket found on the fourth volume revealed that manga
Sakamoto desu ga?
(
Haven't You Heard? I'm Sakamoto
) will be receiving a TV anime adaptation scheduled to air in Spring 2016 on TBS and BS-TBS.
Synopsis
First year high school student Sakamoto isn't just cool, he's the coolest! Almost immediately after starting school, he began attracting everyone's attention. The girls love him, and most of the boys resent him. There's even a boy in the class who works as a model, but who is constantly upstaged by Sakamoto! No matter what tricks the other boys try to play on him, Sakamoto always manages to foil them with ease and grace. Though Sakamoto may seem cool and aloof, he helps others when asked, such as in the case of the boy in his class who was being constantly bullied. No matter what difficulties Sakamoto encounters, he moves through his high school life with confidence and class! (Source: MangaHelpers)
The series is drawn by
Nami Sano
and ran for four volumes from August 2011 to December 2015 in Kadokawa's harta magazine. It also won the Comic Natalie Grand Prize in 2013.
Source:
Otakomu
News submitted by
Hongu
&
Jiharo
Sakamoto desu ga?
on MAL
Update January 15
It was announced via the official site that
Hikaru Midorikawa
(
Active Raid: Kidou Kyoushuushitsu Dai Hachi Gakari
) will voice Sakamoto. Staff members and a key visual were also revealed.
Staff
Director:
Shinji Takamatsu
(
Gintama
)
Character Design:
Atsuko Nakajima
(
Hakuouki
)
Music:
Yasuhiko Fukuda
Animation Production:
Studio Deen
Source:
Official site

RSS Feed