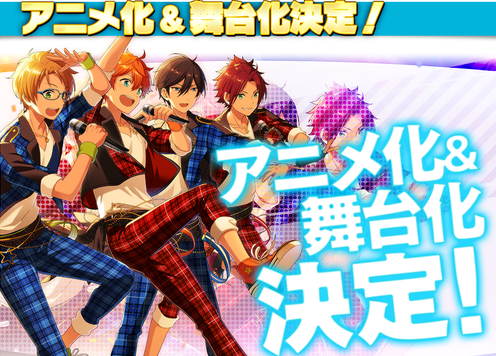 The official site for the smartphone game
Ensemble Stars!
has revealed that an anime will be among the adaptations for its mix-media project. The game has previously received two novels and will, in addition to the anime, also receive a stage play slated for June 2016. The type and premiere date for the anime have not been announced yet.
Ensemble Girls!
, which is in the same franchise, will also receive an anime adaptation.
Synopsis
Yumenosaki Private Academy, a school located on a hill facing the ocean. Specializing in boys' idol training, the school has a long history of producing generations of idols for the entertainment world out of the young men overbrimming with talents, like the shining stars in the sky. Due to "special circumstances," you are a transfer student at the school, as well as the only female student there. In fact, you are chosen to be the very first student of the "producer course," and your task is to produce these idols... We hope you will enjoy your journey with the idols you meet at the academy, as well as the vigorous ensemble that together you will make. (Source: Enemble Stars! Wikia)
The scenario was originally written by Akira (
Sasami-san@Ganbaranai
), and the game currently consists of 31 cast members divided into eight idol units. The third single, titled "Owaranai Symphonia"by fine, and the fourth single, titled "Hyakkaryouran, Akatsukiya" by Akatsuki, sold 19,901 and 22,280 copies, respectively, during its first week in the
Oricon CD rankings
.
Source:
Official site
Ensemble Stars!
on MAL

RSS Feed