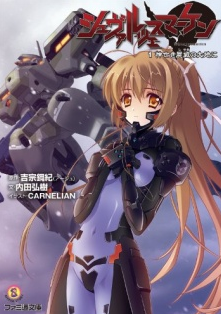 An announcement on the Age Soft
official website
revealed that the light novel spin-off of the
Muv-Luv franchise
titled
Schwarzesmarken
will receive an anime adaptation. The adaptation of the novel will premiere this Fall.
Schwarzesmarken
is written by
Hiroki Uchida
and
Kouki Yoshimune
, and illustrated by
Carnelian
. The novel series started its serialization in
Tech Gian
in November 2010 up until March 2014. The series completed at seven volumes, with a total of 42 chapters.
Synopsis
The story follows the East German Army's 666th TSF Squadron in its battles and political conflicts during the BETA's westward push in 1983.
The East German Army 666th TSF Squadron "Schwarzesmarken" (Black Marks) is a special forces unit tasked with assaulting BETA forces using unconventional tactics; specifically, they target Lux and Magnus Lux to deny the BETA the advantage of ranged firepower. Their orders are given the topmost priority, such that it is common practice for the 666th to ignore allied distress calls that will result in deviation from their original mission, even if only for a short moment. (Source: Baka-Tsuki)
Source:
Otakomu
Schwarzesmarken
on MAL

RSS Feed