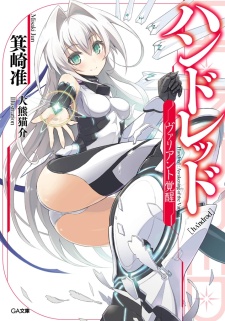 Along with the
anime announcement
of light novel
Saijaku Muhai no Bahamut
during GA Bunko's 10th anniversary event, it was also announced that light novel
Hundred
will be receiving an anime adaptation.
Hundred
is written by mangaka
Jun Misaki
and illustrated by
Nekosuke Ookuma
, the artist of
Shinmai Maou no Testament
. The upcoming eighth volume of the light novel, to be released on August 15, will also bundle a drama CD. A
manga adaptation
, drawn by
SASAYUKi
, was serialized in shounen magazine
Dragon Age
from November 2013 to December 2014.
The drama CD cast members were announced via a promotional video streamed during the event.
Cast
Charlotte Dimandias:
Miyu Matsuki
Claire Harvey:
M.A.O
Emil Crossford:
Rumi Okubo
Erica Candle:
Yui Makino
Fritz Granz:
Wataru Hatano
Hayato Kisaragi:
Yoshiaki Hasegawa
Karen Kisaragi:
Kaya Okuno
Latia Saint-Émilion:
Yuka Ootsubo
Liddy Steinberg: Rika Kinugawa
Meimei:
Ayaka Imamura
Sakura Kirishima:
Mayu Yoshioka
Announcement PV:
https://www.youtube.com/watch?v=ARYf97zPpYY
Synopsis
"Hundred"—that is the only weapon that can oppose the mysterious life form "Savage" from visiting the earth.
The protagonist, Kirasagi Hayato, aims to become a Martial Arts Master using this Hundred. He managed to get into the battleship university Little Garden.
However—
"I wanted to see you, Hayato!!!"
"H-How do you know my name?"
Around the roommate, Emil Crossford, who somehow knows him well (?), Hayato gets an uneasy feeling.
What's more, just after the entrance ceremony, he gets asked for a duel by the campus' strongest martial arts master "Queen" Claire Harvey...?!
The ultimate academy battle begins here! (Source: MU)
Source:
Moca
Hundred
on MAL

RSS Feed