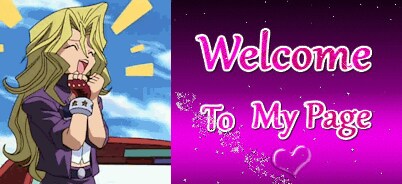 TheBlockernator AKA: That Mai Valentine Guy
Hello! My name is TheBlockernator, but you probably know me more as "That Mai Valentine Guy". :) She's just so pretty.

I'm just a normal anime fan, i love Moe/Slice of life stuff. I also like game genre. I tend to favor shorter anime and very rarely watch something long. My favorite anime is Yugioh, my waifu is Mai Valentine.

I grew up with 4kids and Toonami stuff and never really branched out until 2016, when i first saw Azumanga Daioh and Strawberry Marshmallow.

My favorite VA is Megan Hollingshead. She's very talented and i have sort of a crush on her :)

I'm always looking for new friends to discuss anime with, so if you want to chat, just send a friend request. I accept most. But keep in mind, i have social anxiety so starting a conversation is challenging for me. I prefer other people to start the convo. It also causes me to not read messages sometimes so if i'm slow responding, please keep this in mind.

My ratings are based around how much i'd want to rewatch a series once i finish it. I usually add notes to my MAL List next to shows i finished, that's mostly just for me to look at and remember what i liked/disliked if i forget watching it.

I use Watching as more of a What's Next section. Typically, i pick about 4 or 5 shows i'll watch next, finish them, then pick 4 more. I watch 2 shows at a time, 1 of them will be longer (35+ episodes) and the other will be shorter. On Hold is series i've started and never got around to finishing, Plan To Watch is similar, i'll watch later. Dropped isn't really "Dropped" for me, it's the very last thing i'll watch when i clear my PTW/OH lists because they're not very good but i want to finish them.
Statistics
Total Entries

2,020

Rewatched

53

Episodes

3,885


Total Entries

137

Reread

0

Chapters

107

Volumes

29



Anime (10)
Manga (6)
Character (10)