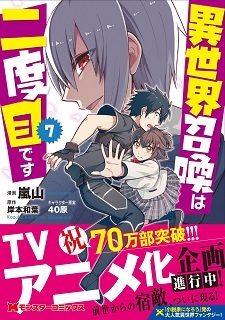 Novelist
Kazuha Kishimoto
announced a television anime adaptation of their
Isekai Shoukan wa Nidome desu
(
Summoned to Another World... Again?!
) light novel on Twitter on Wednesday.
Synopsis
There was once a man who was summoned to another world, and saved it. Of course, he became too popular there, and turned into an isekai-normie. However, that man fell into a "trap" and was forcibly returned to his original world. Moreover, he had to start over as a baby!
This is the story of the way-too-fantastic ex-hero who lived as a gloomy high-schooler, as he gets summoned once again to that same other world in a very unexpected development! (Source: Coolmic, edited)
Kishimoto
pennned
the comedy fantasy novel on the Shousetsuka ni Narou website from March 2015 to December 2016, followed by nine epilogue chapters between February 2017 and last October. Futabasha began printing the series under its Monster Bunko imprint with illustrations by
40-hara
(
Iya na Kao sare nagara Opantsu Misete Moraitai
) in October 2015 and released the fifth and final volume in July 2017.
Arashiyama
began drawing a
manga adaptation
on the
Monster Comics
website under the
Web Comic Action
portal in June 2018. Futabasha shipped the sixth volume on June 29. The seventh volume is scheduled for a December 28 release, which includes the anime announcement on its wraparound band (pictured).
Novel special site:
https://gaugau.futabanet.jp/list/work/5dce9a157765614651010000
Source: Kazuha Kishimoto
on Twitter
Isekai Shoukan wa Nidome desu
on MAL

RSS Feed