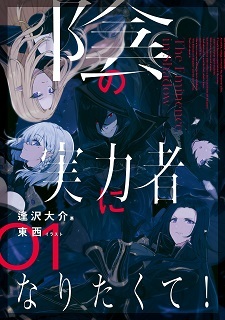 Publishing company Kadokawa announced on Friday that
Daisuke Aizawa
's
Kage no Jitsuryokusha ni Naritakute!
(
The Eminence in Shadow
) light novel is being adapted into a television anime.
Synopsis
Great heroes and diabolical villains are the types of characters that people long to be—but not Cid Kagenou. He longs to become the true mastermind behind it all, pulling the strings, and having his machinations drive the entire story. In his previous life in modern-day Japan, he was not able to achieve his goals. But now, reborn into a world of magic, he will show the true eminence of shadow!
As Cid pretends to be just another average mob character, he recruits members to his (fake) organization Shadow Garden, aiming to take down the mysterious cult who lurks in the shadows. With plenty of ad-libs, Cid leads his (fake) organization against the foul (yet surprisingly real) Diabolos Cult. [Written by MAL Rewrite]
Aizawa
launched
the comedy fantasy novel on the Shousetsuka ni Narou website in May 2018. Kadokawa began publishing the series through its Enterbrain label with illustrations by
Touzai
in November that year and released the fourth volume on Friday.
Kage no Jitsuryokusha ni Naritakute!
has a cumulative 1 million copies of its volume in circulation.
Anri Sakano
(
Mondaiji-tachi ga Isekai kara Kuru Sou desu yo? Z
) launched a
manga adaptation
in
Monthly Comp Ace
in December 2018. The magazine also began serializing a
spin-off
by
Seta U
in July 2019. Kadokawa shipped the fifth and second volume of each manga on Friday, respectively.
Yen Press licensed the light novel and manga adaptation in English in May 2019 and January 20 and
published
the second novel volume on November 10 last year. The first manga volume is planned for a July 20 release.
Source:
LN News
Kage no Jitsuryokusha ni Naritakute!
on MAL

RSS Feed