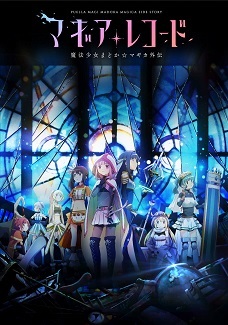 The 13th and final episode of
Magia Record: Mahou Shoujo Madoka☆Magica Gaiden
(
Magia Record: Puella Magi Madoka Magica Side Story
) ended with announcement on Sunday that a second season for the anime series is in production.
Synopsis
Rumor has it that if a young girl strikes a bargain with a white fairy, it will grant any wish her heart desires. However, in exchange, she will become a magical girl and must put her life on the line to slay fearsome and ferocious witches.
Iroha Tamaki, a kind-hearted middle schooler from Takarazaki City, is living proof that these rumors are true. Armed with a magical crossbow and the ability to heal injuries, Iroha seeks out the labyrinths where witches hide and defeats them before they can prey on humans. Yet Iroha has no memory of her wish, and even Kyuubey, the white fairy himself, seems to have no idea what Iroha requested of him.
One day, Iroha hears rumors of a city where "magical girls can be saved," and finds herself on a sunset train to Kamihama City. Unfortunately, she discovers that the witches in Kamihama are far more powerful than usual. After veteran magical girl Yachiyo Nanami is forced to save her, Iroha vows to never return. But when a chance encounter with a tiny Kyuubey seems to trigger distant memories, Iroha is compelled to investigate the mysterious city despite the danger. [Written by MAL Rewrite]
The television series, originally scheduled for last year, debuted in Japan on January 5. Aniplex of America licensed the anime in North America and streamed it with subtitles on Crunchyroll, Funimation, and HIDIVE.
Gekidan Inu Curry
(
Goku Sayonara Zetsubou Sensei
opening director), an animation writer unit comprised of ex-Gainax animator Ayumi Shiraishi and 2D artist Yousuke Anai, served as the chief director and handled the series composition at
Shaft
.
Yukihiro Miyamoto
(
Mahou Shoujo Madoka★Magica
) acted as the assistant director.
Other production staff include character designer
Junichirou Taniguchi
(
Tada-kun wa Koi wo Shinai
), chief animation director
Nobuhiro Sugiyama
(
Nisekoi
) and
Hiroki Yamamura
(
Fate/Extra: Last Encore
), and music composer
Takumi Ozawa
(
Hidan no Aria
).
Anisong trio
TrySail
, composed of voice actresses
Momo Asakura
,
Sora Amamiya
, and
Shiina Natsukawa
, performed the opening theme "Gomakashi." Female J-pop duo
ClariS
performed the ending theme "Alicia."
Magia Record: Mahou Shoujo Madoka☆Magica Gaiden
serves as a spin-off to the 2011 anime series
Mahou Shoujo Madoka★Magica
. Aniplex launched the smartphone game for Android and iOS platforms in August 2017, featuring character designs by
Ume Aoki
(
Hidamari Sketch
).
Manga Time Kirara Forward
began serializing a
manga adaptation
by
Fujino Fuji
in August 2018. Houbunsha published the third volume on February 4.
Announcement
Note: The video is region-locked; click here for an alternative link.
Source:
Comic Natalie
Magia Record: Mahou Shoujo Madoka☆Magica Gaiden (TV) 2nd Season
on MAL

RSS Feed