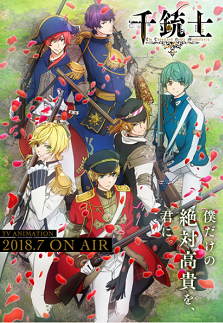 An official website for an anime adaptation of Marvelous and LINE Corporation's
Senjuushi
smartphone game has launched. The cast members from the game will reprise their roles. The anime is slated for this summer. A
poster
is also being displayed at Kadokawa booth of AnimeJapan.
Synopsis
Despair War is a battle between ancient guns and contemporary guns. Due to a nuclear war, the world was destroyed. Under the full governance of a world empire, people are living with their freedom taken. Despite the forbidden rule of owning any weapons, there is a resistance that secretly fights against the world empire. They own ancient guns left as art and fight using these. Then, the Kijuushi appear as the souls of the ancient guns. Proud and magnificent, the "Absolute Royal" are the only ones that can give hope to this world. The story depicts the everyday life of the Kijuushi. Laughter, despair, happiness, confusion, pain; they would still pursue their own absolute loyalty to fight. What do they fight for? What should they protect?
Staff
Director:
Kenichi Kasai
(
Hachimitsu to Clover
)
Series Composition:
Takashi Aoshima
(
Love Lab
)
Character Design:
Majiro
(
Barakamon
)
Music:
Hiroshi Takagi
(
Bakumatsu Gijinden Roman
)
Studio:
TMS Entertainment
Cast
Brown Bess:
Taku Yashiro
(
Mayogia
)
Charleville:
Shinnosuke Tachibana
(
D.Gray-man Hallow
)
Springfield:
Shouta Aoi
(
Oushitsu Kyoushi Heine
)
Kentucky:
Yuki Kaji
(the
Classicaloid
series)
Napoleon:
Daisuke Namikawa
(the
Hetalia
series)
Rapp:
Wataru Hatano
(
Killing Bites
)
Announcement
The game was launched on Thursday for the iOS and Android platforms with game characters based on various gun types from the history. The players are to collect, develop, and use them to defeat the worldly empire.
Official site:
https://noble.marv.jp/anime
Official Twitter: @
senjyushi_anime
Source:
animate Times
Senjuushi
on MAL

RSS Feed