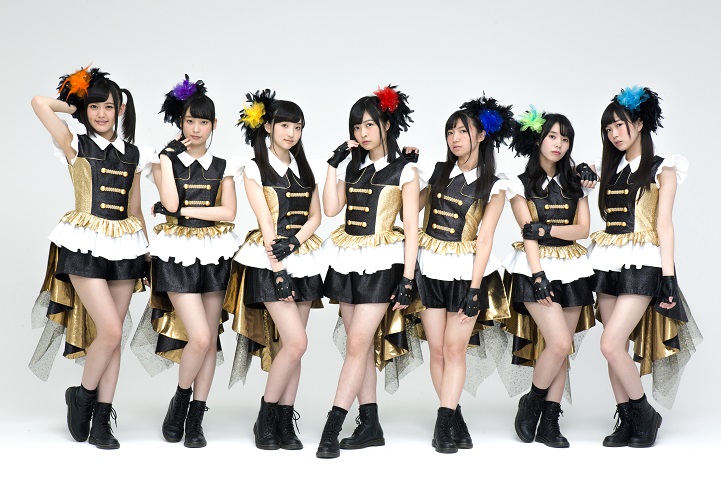 When the seiyuu unit
Wake Up, Girls!
first visited the United States in 2014, the seven-person idol group had just finished the broadcast run of their debut anime series in Japan. They were gaining popularity among fans around the world, but their activities were still limited as rookie performers.
Now, as they return three years later to perform at Anisong World Matsuri at Anime Expo 2017, the members of Wake Up, Girls! (also known as WUG in short) are no longer rookies. Together, they have held three summer concert tours in Japan, continued the story of their characters in two sequel anime movies, acted in a stage play adaptation of their anime, and performed theme songs for two other anime series,
Shakunetsu no Takkyuu Musume
and
Renai Boukun
.
In
their anime series
, WUG members are local idols based in the city of Sendai in the northern prefecture of Miyagi. As part of their promotional activities for the series, they support tourism efforts to aid the recovery of the Tohoku region following the 2011 earthquake and tsunami. At the
9th Seiyuu Awards
in 2015, their activities received special recognition from the awards committee.
Ahead of their scheduled performance in Los Angeles, MyAnimeList interviewed WUG's center member
Mayu Yoshioka
(pictured center above) for her thoughts on the group's growth over the past three years.
What first interested you to join the Wake Up, Girls! seiyuu audition?
The main reason was that I wanted to challenge myself with voice acting as a way of expressing myself. At the time, I had just begun watching late night broadcasts of anime and saw the programs were fun and interesting. I've loved acting for a long time and thought there was something appealing in being able to act by just using my own voice.
Earlier this year, WUG members held a stage play performance. What was it like to act live on stage instead of through voice recording?
I personally enjoy being able to stand on a stage, and I've had the opportunity to take part in several stage productions in the past. But when it comes to a stage play where the character I portray is also someone I've voiced, this experience changed my perspective. I thought it was a pretty fun experience.
There were many serious scenes and instances where my character,
Mayu Shimada
, was very cautious and guarded. Because of this, I spent a lot of time thinking about how Mayu would feel in those situations. When I move my body, it's like breathing life onto the stage and giving birth to a natural presence in a space where nothing existed before.
Mayu Yoshioka in the stage play Wake Up, Girls! Aoba no Kiroku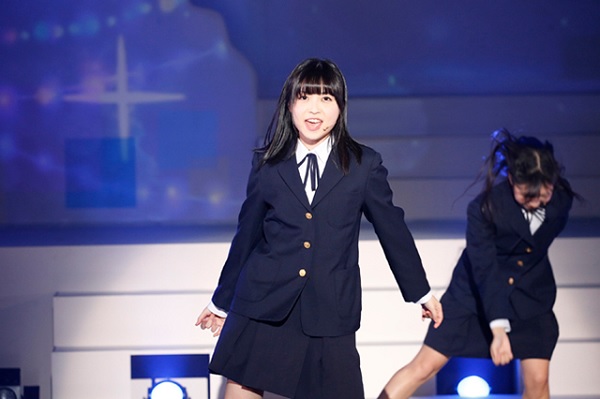 What do you think about performing theme songs for other anime series, not just the Wake Up, Girls! anime?
There was some uncertainty at first whether or not it would be the right fit, but more than anything I was happy that there are opportunities to introduce WUG outside of our anime. Fortunately, there are many people who liked our tie-up songs and became fans of our work and activities after watching not only the
Wake Up, Girls!
anime series, but also the movies. This synergy has encouraged me to work harder so that I can help more people become interested in works by us and other seiyuu units.
Your work with Wake Up, Girls! also involves PR activities for the Miyagi and Tohoku region. As someone who isn't originally from the area, what are the charms of Miyagi and Tohoku that you have seen?
Every time I return to Miyagi, the fresh air feels great. I can always feel the kindness of the people I meet there. From the manners of local residents to the atmosphere of the neighborhoods, everything feels comforting and leisurely, as if being able to spread your wings. It's a place that I want to go back to every now and then.
I've been able to visit many places in Miyagi thanks to my work activities, but there are plenty of places outside of the popular sightseeing locations that I want to get to know more deeply. What's great is that the area is accessible from Tokyo within a 90-minute train ride on the Shinkansen. Outside of work, I've also gone to Miyagi several times on my own. I think it's a place that you can enjoy year round because there are always events happening, whether it's in the summer or in the winter.
Wake Up, Miyagi! Miyagi no Miryoku Otodokeshimasu! Onagawa-hen

What is it like to go on a concert tour or travel overseas with the other WUG members?
I'm really glad to be able to do these things with the seven of us. We have a relationship where we're always giving each other a hand in reaching our goals. It's a group where I can feel at ease because it's where I started my journey. That's why when we go on our annual concert tour or whenever someone is struggling, we're able to overcome them by supporting each other.
Every time we perform overseas, I'm always constantly amazed at one thing after another. I'm very happy that the circle of WUG fans reaches even across the oceans. Whenever I get to go sightseeing with the other members, it always feels like going on a school trip that I couldn't go on as part of my youth. (Laughs.)
At the Los Angeles Anisong World Matsuri, many people will be watching Wake Up, Girls! live for the first time. What can they expect from a WUG performance, and do you have any tips on how they can enjoy the show?
I'm sure that our songs can be enjoyed by everyone around the world. I want everyone to join together in our performance. I'm not very good in speaking English... but I'll be happy if many people get to know what's great about our songs and dances.
Anisong World Matsuri Comment Video

Anisong World Matsuri Twitter:
https://twitter.com/AnisongWorld
Anisong World Matsuri Facebook:
https://www.facebook.com/AnisongWorldMatsuri/
Anisong World Matsuri at Anime Expo 2017:
http://www.anime-expo.org/anisong-world-matsuri-2017/
Related Database Entries
| | |
| --- | --- |
| Anime: | Wake Up, Girls!, Wake Up, Girls! Shichinin no Idol, Wake Up, Girls! Seishun no Kage, Wake Up, Girls! Beyond the Bottom, Wake Up, Girls! no Miyagi PR Yarasete Kudasai!, Wake Up, Girls! Shin Shou |
| People: | Yoshioka, Mayu, Wake Up, Girls! |

RSS Feed