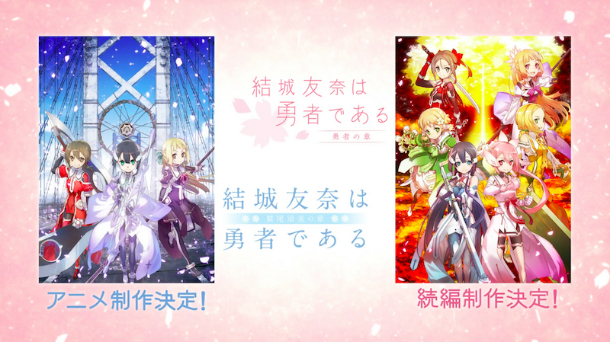 At the tenth anniversary celebration of Minato Soft's Minato Tamashii event on Sunday, a second season of the
Yuuki Yuuna wa Yuusha de Aru
(
Yuuki Yuuna is a Hero
) TV anime was announced. Titled
Yuuki Yuuna wa Yuusha de Aru: Yuusha no Shou
(
Yuki Yuna is a Hero: Hero Chapter
), the second season is scheduled to air in 2017
The first six episodes will adapt
Takahiro
and illustrator
BUNBUN
's prequel light novel
Washio Sumi wa Yuusha de Aru
(
Washio Sumi is a Hero
), subtitled
Yuuki Yuuna wa Yuusha de Aru: Washio Sumi no Shou
(
Yuuki Yuuna is a Hero: Washio Sumi Chapter
). Limited theatrical screenings of the first half will take place in March 2017 prior to the new season's TV broadcast.
A new set of character songs, serialization of a new novel titled
Nogi Wakaba wa Yuusha de Aru
and an upcoming live event were also announced at the event.
Yuuki Yuuna wa Yuusha de Aru
aired in Fall 2014 for 12 episodes as the fourth installment of a media project called Takahiro IV Project. The anime has been licensed by Ponycan USA and was released in three Blu-ray and DVD volumes between April and August in 2015.
A
manga adaptation
began running in
Dengeki G's Comic
in November 2014. The franchise spawned several light novels and spin-offs, which have also been serialized in the same magazine.
Announcement
Source:
Official Twitter
Yuuki Yuuna wa Yuusha de Aru: Washio Sumi no Shou
,
Yuuki Yuuna wa Yuusha de Aru: Yuusha no Shou
on MAL

RSS Feed