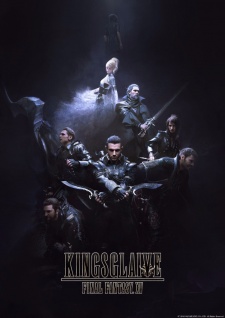 The official website of
Kingsglaive: Final Fantasy XV
has announced additional voice cast members for the Japanese-language version of the full CG movie. Square Enix also released a new trailer at the Electronic Entertainment Expo (E3) in Los Angeles this week.
Kingsglaive
will open in 45 theaters across Japan on July 9, 2016. It will be released on Blu-ray and DVD along with the
Final Fantasy XV
role-playing game and the
Brotherhood: Final Fantasy XV
series on September 30.
Cast
Iedolas Aldercapt:
Shouzou Iizuka
(
Sennen Joyuu
)
Clarus Amicitia:
Banjou Ginga
(
Mobile Suit Gundam
)
Ardyn Izunia:
Keiji Fujiwara
(
Utawarerumono: Itsuwari no Kamen
)
Ravus Nox Fleuret:
Yuuichi Nakamura
(
Fairy Tail
)
Tredd Furia:
Fuminori Komatsu
(
JoJo no Kimyou na Bouken: Stardust Crusaders
)
Pelna Khara:
Wataru Takagi
(
Hajime no Ippo
)
E3 Trailer
Source:
Official site

RSS Feed