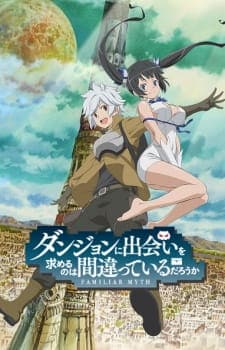 An OVA of
Dungeon ni Deai wo Motomeru no wa Machigatteiru Darou ka
was announced today at the anime's Hestia Party event. Seiji Miyazaki, general manager of cross media rights at light novel publishing label GA Bunko, announced on Twitter that the OVA is the ninth of GA Bunko's 10th anniversary projects.
The series adapts the
light novels
of the same name written by
Fujino Omori
and illustrated by
Suzuhito Yasuda
. The TV anime aired in Spring 2015 for a total of 13 episodes.
Further information on the OVA will be announced on March 6 at Gangan GA Fes. 2016 Spring at the Maihama Amphitheater, where the voice cast members of the series will make an appearance.
Source:
Otakomu
Dungeon ni Deai wo Motomeru no wa Machigatte Iru Darouka OVA
on MAL

RSS Feed