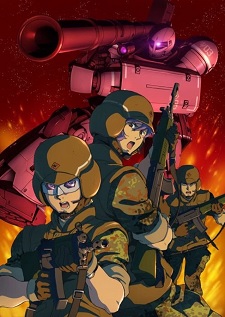 The third installment of
Mobile Suit Gundam: The Origin
will screen in 15 theaters in Japan between May 21 and June 3, 2016. Titled "Akatsuki no Houki" ("Dawn of Rebellion"), it tells the story of
Char Aznable
's days in Zeon Military Academy, where he meets
Garma Zabi
.
Bandai Visual Club has begun accepting pre-orders for the collector's edition Blu-ray disc, which will be released on May 28. A limited number of copies will also be sold during the theatrical screenings. The regular edition Blu-ray and DVD discs will go on sale on June 10. The listings indicate a running time of 60 minutes for the OVA.
The official website has also been updated with additional voice cast and new staff members for this installment.
Cast
Garma Zabi:
Tetsuya Kakihara
(
Divine Gate
)
Rino Fernandes:
Tomoaki Maeno
(
Death Parade
)
Trenov Y. Minovky:
Naoki Bando
(
Uchuu Kyoudai
)
Zenna Mia:
Ai Kayano
(
Kono Subarashii Sekai ni Shukufuku wo!
)
Staff
Episode Director:
Kiyoshi Egami
(
Mobile Suit Gundam: The Origin I
)
Art Director:
Junichi Higashi
(
Cowboy Bebop
)
Animation studio
Sunrise
is adapting
Yoshikazu Yasuhiko
's
Mobile Suit Gundam: The Origin
manga in four installments. The Blu-ray releases for the first two installments placed second and fifth, respectively, in Japan's
2015 sales rankings
. The DVD releases placed eighth and fifteenth, respectively.
PV
Source:
Gundam.info

RSS Feed