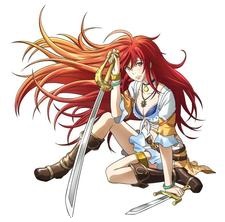 The TV anime adaptation of light novel
Nejimaki Seirei Senki: Tenkyou no Alderamin
(
Alderamin on the Sky
) announced its cast today.
Cast
Sorouka Ikuta:
Nobuhiko Okamoto
(
Akagami no Shirayuki-hime
)
Igsem Yatorishino:
Risa Taneda
(
Gate: Jieitai Kanochi nite, Kaku Tatakaeri
)
Shamiyu Kitora Katovanmaninik:
Inori Minase
(
Comet Lucifer
)
Remion Torway:
Ryousuke Kanemoto
(
Diamond no Ace
)
Matthew Tetojirichi:
Junji Majima
(
Monster Musume no Iru Nichijou
)
Becker Harouma:
Haruka Chisuga
(
Akatsuki no Yona
)
Synopsis
At war with the adjacent Kioka Republic, the Katjvarna Empire. In that region, due to certain circumstances, there was a certain youth unwillingly preparing to take the High Grade Military Officer Exam. His name: Ikuta. Disliker of war, lazy, admirer of women. No one predicted that that kind of Ikuta would later on become a soldier referred to even as a great commander... He who survived a world embroiled in war with his superior genius, Ikuta. Illustrating his dynamic, dramatic life, a splendid fantasy military history, the curtain is raised at last! (Source: Baka-Tsuki, edited)
The series adapts the
light novel
of the same name written by
Bokuto Uno
and illustrated by
Sanbasou
and
Ryuutetsu
. It currently has eight volumes in print, with the latest volume released on October 10. The series also
placed third
for "most popular light novels" according to a reader's poll from the annual light novel rankings for 2016 in the "Kono Light Novel ga Sugoi!" ("This Light Novel is Amazing!") guide book.
Source:
Otakomu

RSS Feed